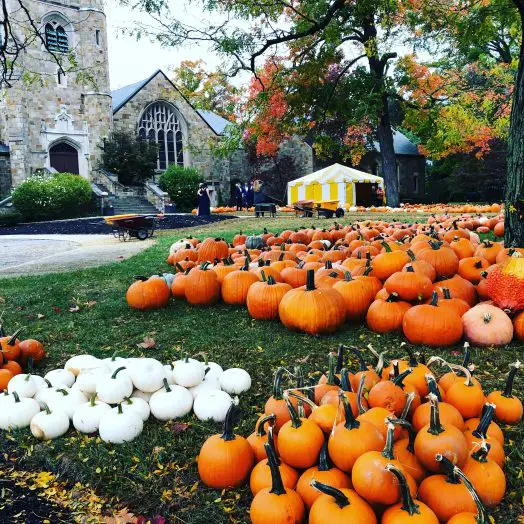 The annual Bates Elementary School Pumpkin Fair will take place on Saturday, October 19, 10am – 2pm, at the Elmwood Road school. As usual, it will feature a chance to buy pumpkins, get spooked at the haunted house, play kids games and activities, and enjoy live entertainment, delicious food, tons of prizes and just good old-fashioned spooky Halloween fun at this family friendly fundraiser, which is open to the public.
The cafe is stocking up on cider donuts, hot chocolate, coffee and other delicious treats, so skip breakfast on Saturday and arrive at 10am rain or shine to get first dibs. In the afternoon there will be pizza, burritos, hot dogs, chips and plenty of refreshing juices and water. After breakfast, come visit the Pumpkin Patch where hundreds of pumpkins of all sizes will be available for purchase. Come early for the best selection; just tag your favorite gourds and volunteers will put your pumpkins aside for you to pick up on your way home, or you can have them delivered to your car at the "pumpkin pick-up area" at the end of the fair.
Out on the fields there will be Moon Bounces, sports and carnival games like Eyeball Spin, Scary Soccer Shoot, Lucky Lollies, and of course the Howl in One. Tickets can be redeemed for non-edible Halloween favors at the prize table. When you are ready for something sweet, be sure to visit the Sweet Treats table, where there will be plenty of baked goodies to go around: cookies, cupcakes, caramel apples, cakes and pies, all festively packaged to eat at the fair or go home with to enjoy later. Nut-free and gluten- free items will be available.
Don't miss the legendary Haunted Hallway…if you dare! Come see what tricks or treats lurk beyond every twist and turn. A fair favorite, it is suitable for all ages, and you can chose from 3 levels of spookiness….lights on, barely scary, or completely dark and creepy. The Haunted Hallway is sure to delight every age.
EVENT: Bates Pumpkin Fair
WHEN: Saturday October 19, 10am – 2pm (rain or shine)
WHERE: Bates Elementary School 116 Elmwood Road Road Wellesley
Annual house decorating contest
Help build a strong sense of spooky community spirit by nominating your house or your neighbor's house. Winners will receive a trophy and neighborhood bragging rights, Wellesley Recreation's own "Boo Crew" judges will be knocking on doors, trophies in hand, in October.
To nominate a house:
Email a picture of the house to

[email protected]

Include the address of the decorated house in the email.
If the house has lights, take a day and night picture.
Nominations must be received by October 28.
Halloween Elementary School Dance Party —Friday, Oct. 25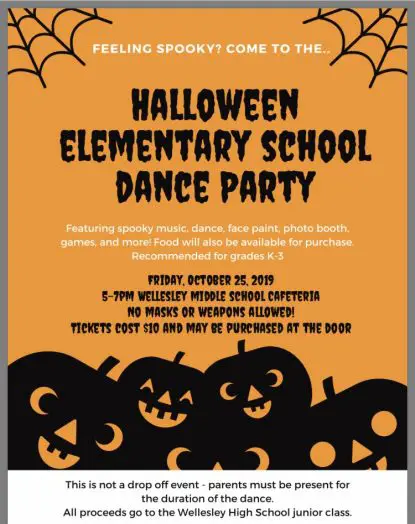 Halloween Stroll — Saturday, October 26
The Wellesley College Guild of Carillonneurs: Halloween Concert
Join Wellesley College for a special Halloween concert with costumes, candy, and spooky music. Listen from the academic quad or the chapel lawn as the Wellesley College Guild of Carillonneurs carries on the tradition of bell-ringing in Galen Stone Tower, which began when the carillon was first installed in 1931.
Halloween Candy Drive — November 1 – 7
Drs. Ali and Ali of Wellesley Dental Group are inviting the public to join them at the press event for the 𝟏𝟐𝒕𝒉 𝑨𝒏𝒏𝒖𝒂𝒍 𝑪𝒂𝒏𝒅𝒚 𝑫𝒓𝒊𝒗𝒆 𝒇𝒐𝒓 𝒕𝒉𝒆 𝑻𝒓𝒐𝒐𝒑𝒔. The event will display all the candy collected within the Metrowest area of Boston, which will be donated to troops deployed overseas. Over 40 schools and organizations participated for last years' Candy Drive, collecting over 12,000 pounds of candy. A 𝗽𝗿𝗶𝘇𝗲 𝗼𝗳 $𝟭𝟬𝟬𝟬 𝘄𝗶𝗹𝗹 𝗯𝗲 𝗮𝘄𝗮𝗿𝗱𝗲𝗱 𝘁𝗼 𝘁𝗵𝗲 𝘀𝗰𝗵𝗼𝗼𝗹'𝘀 𝗣𝗧𝗢 𝘁𝗵𝗮𝘁 𝗱𝗼𝗻𝗮𝘁𝗲𝘀 𝘁𝗵𝗲 𝗺𝗼𝘀𝘁 𝗰𝗮𝗻𝗱𝘆 (𝗯𝘆 𝘄𝗲𝗶𝗴𝗵𝘁) 𝗽𝗲𝗿 𝘀𝘁𝘂𝗱𝗲𝗻𝘁.
Our goal is to inspire the spirit of giving in kids by encouraging them to share their extra Halloween candy with our troops overseas. These sweet treats and handwritten cards are a reminder of home for these soldiers and a reflection of our gratitude. The packages will be sent via CarePacks, a local non-profit organization, along with oral hygiene supplies.
To schedule a candy drop-off or for more information, contact us at: 781-237-9071
𝗥𝗦𝗩𝗣: https://forms.gle/WdvFhU9UoM6RU2fR7