This page was updated Nov. 2023.
Wellesley High School is known for its sports teams, and rightfully so. But did you know there are 75 clubs and activities for students who either aren't sporty or who simply want to explore all that the school has to offer? Clubs and activities are available to students at no cost, and faculty or CORI-checked non-school advisors help run things. Times vary—some meet after school, some in the evenings, and others on weekends or a combination of all three.
School year 2023-24 updates on advisors' names and club days/times/locations here, starting on page 25.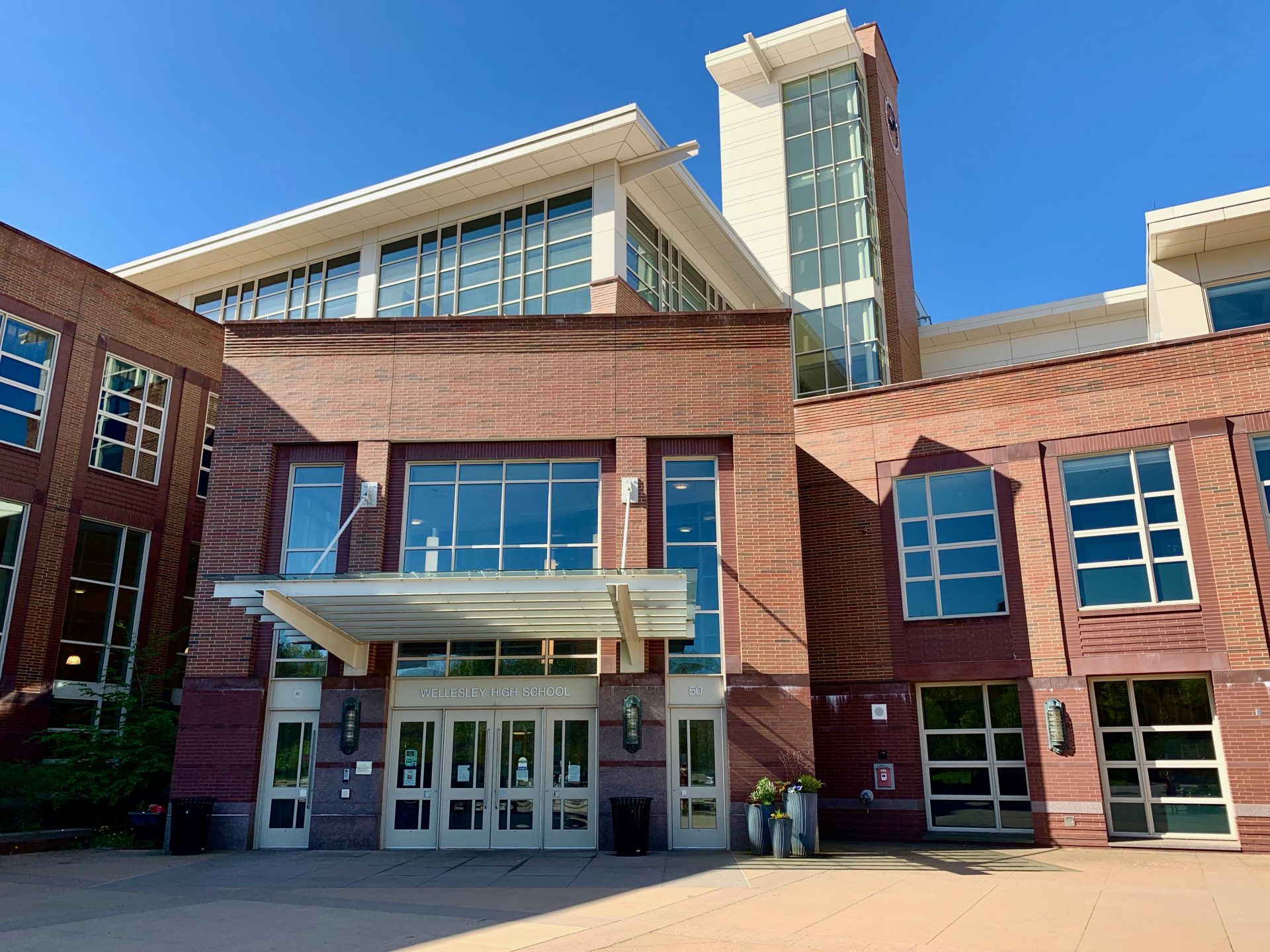 CLUBS AND ACTIVITIES
Academic Decathlon Team
The United States Academic Decathlon is a nation-wide contest of academic skill. The WHS team competes three times a year against approximately 60 teams from Massachusetts, including a Saturday in March to determine the State Champion. AcaDec is open to ninth through twelfth graders, and all are welcome, regardless of GPA.
2023 update: The Academic Decathlon Team is a perennial powerhouse, which competed in the U.S. Academic Decathlon in May 2023  week in Frisco, Texas. WHS student Alan Song won the gold medal in Math and took home the bronze medal in the Interview event. Cayden Xia won the bronze medal in Science; Dennis Zhang won a silver medal in Math, and Bella Wang took home the bronze medal in Math. The WHS team qualified for the USAD competition by winning Wellesley High's third straight Massachusetts Academic Decathlon Championship.
---
A.L.L. (Analyzing LGBTQ+ Literature)
The Analyzing LGBTQ+ Literature Club is a safe space where students come together to discuss queer media (including novels, songs, films, and TV shows written by and/or about queer people). This club provides students with an opportunity to analyze a variety of texts in a fun and engaging way. 
American Red Cross
Amnesty International
Amnesty International Club is a club based on the Amnesty International organization and our main purpose is to combat social injustices worldwide with our words. Each week we choose a case in which someone in the world has experienced discrimination or has been wronged. Then, each member writes a letter of petition to the government, or a letter of support to said individual.
Anime Club
Watch anime, play games, and hang out! The club is an excellent way for members to meet others with similar interests and learn more about Japanese animation. Members get to pick the series, and the club enjoys a variety of genres and types of anime. 
Architecture Club
Architecture club is a student lead club in which students learn about basic architecture and drafting, jobs in architecture and famous architects and their designs. The club sometimes has local architects and designers come in to give presentations. Students also work on projects such as designing mini-libraries or other things while working with the woodworking club, or building models of their designs.
Art Club 
Art club offers time and space for all WHS students to draw and paint personal pieces or work on collaborative projects. Attendees of the art club create cartoons, comics, reuse old art materials and meet other artists at WHS. 
Art History Club 
Learn about various visual artworks created from the very beginning of recorded time up to present day artwork being produced.  These artworks include 2D and 3D work as well as architecture. All are welcome.
Asian Student Union
---
The Bradford
Wellesley High School's student-run newspaper is written, edited and produced by students in print, online, and on Instagram and tiktok.  As student journalists, the group amplifies student perspectives to connect and inform their community.  As the official publication of Wellesley High School, The Bradford exists to inform and entertain. The Bradford aspires to be the hub of information for the school. The Bradford pledges to be honest and unbiased in the way participants collect and report news. As a forum for discussion, The Bradford strives to represent all voices and encourages respect for student, faculty, and community opinions. All are welcome. 
---
Building Cultural Bridges
The Building Cultural Bridges Club operates a high school student-led virtual cultural exchange program for 4th and 5th-grade students to learn about cultures in their community and in the world beyond Wellesley. The Building Cultural Bridges Program's goal is to increase global awareness and familiarize students with foreign cultures and ways of life abroad. Participants in Building Cultural Bridges Club will facilitate zoom meetings between students in Wellesley and Cameroon as well as attend in-person cultural presentations from members of the Wellesley community when the program runs in March. Anyone is welcome to join. 
Business Club (DECA Chapter)
Ceramics Club
Have you ever wanted to play with clay?  Stop by the Ceramics Club. You can stop by to try working on the potter's wheel or work sculpturally with clay.  Student leaders will be available to help you to understand the wheel and how to use it. 
Challenge Success
Challenge Success works to promote well-being and engagement with learning in order to transform the student experience into one where all kids can create their own paths to success. Students work together to bring awareness to the community that success comes in many forms, beyond just grades and college acceptance letters. Students will spread awareness through community events and social media posts.  
Chess Club
Players of all levels are welcome to attend, you can be a complete beginner or national master. Come drop by for any amount of time, play chess, watch, relax and have fun. We play everything from classic chess to exciting variants like 2v2 bughouse or duck chess.
Cheese Tasting Club
Each month we will have new cheeses from around the country and the world to try. We will try the food and chat about them. 
Climate Action Committee
Climate Action Committee is a student organization dedicated to the greening of WHS and to the education of the school community about environmental issues including conservation, recycling and renewable energy. Students work together to identify areas of environmental concern. They then collaborate with faculty, staff and students to bring these concerns into view, and create plans to lessen or eradicate them. Students in the club design green initiatives and work to implement them.
Creative Writing Club                                                                   
Culture Clubs (4 clubs: Chinese, French, German & Spanish)
The Culture Clubs welcomes students and faculty of all backgrounds who are interested in learning more about various cultures and history, cultural issues and current events. The clubs feature culturally-based activities including film, athletics, dinners and cooking, field trips, music, fund raising, education, and other celebratory festivities.
Chinese Culture Club
French Culture Club Advisor
German Culture Club Advisor
Spanish Culture Club Advisor

Cultural Exchange Program
Club participants come together every week to learn about and celebrate different cultures. We are interested in language, food, holidays, traditions, music, dance, history, heritage, family, and other cultural phenomena. 
Debate Team 
In a democratic society, the art of debating is essential. The Debate Team furthers this skill through weekly debates and analysis of current issues. The team may participate in regional, state and national conferences. The Wellesley chapter elects its own leaders who handle every detail of running the club. The team also belongs to the Junior State of America (JSA) which sponsors local, state, national and international competitions.
Diversity Club 
The Diversity Club is an open space where all who enter the space can feel accepted as they are. During sessions participants will engage in meaningful conversations, discussions and planning with the goal of engaging the community activities that will bring awareness to the importance of diversity.
DreamFar
The DreamFar High School Marathon Program trains together all year for the Newport Marathon in April. No running experience required. All you need is a goal, a little enthusiasm, and a decent pair of sneakers. We have a BLAST building up our strength, stamina, and connections with one another during our runs.
EconUp
Equestrian Club
The equestrian club meets weekly on ZOOM to discuss equestrian experiences amongst those who participate in the sport at WHS. This is a community of riders who are involved in horseback riding and share their love of the sport. Meet-ups at a local barn occurred occasionally.
First Robotics Team
Food Interest Club
Students meet to discuss new recipes they have tried, share ideas and tips, and discuss some larger cooking projects (like baking with a sourdough starter!). 
Friends Forever
WHS Friends Forever is a club that provides students the opportunity to build lasting friendships based on mutual interests in a fun and safe environment. Fun activities may include: trivia games, nature walks, board games,  movies, sports, video games, arts & crafts, holiday parties, and monthly  movie nights. We even write and perform our own play for the school and hosting an annual Halloween Dance in the HS cafeteria. 
Frisbee Club
The WHS Frisbee Club is all about having fun and enjoying disc sport and weekly Ultimate Games at the high school fields. The  environment is one in which people can have fun while improving their skills. Weekend disc golf matches will be held on a day and time that is most convenient. These matches will be fun but also competitive and challenging, and a prize will be awarded to winners. 
Girls to Leaders
A club that empowers female identifying students to pursue leadership in all aspects of life. We teach leadership skills through lectures, practice exercises, discussions, guest speakers, and community-based initiatives. Specifically, we seek to further diversify the leadership body at WHS and create a supportive community of confident female leaders.  This club meets virtually (over ZOOM).
Green Chemistry Club
Green Chemistry Club is a place for those interested in the intersection between chemistry and environmental sustainability. We'll discuss the latest innovations in green chemistry, engage in simple chemistry-related activities, and be a welcoming place for those who enjoy chemistry. No prior chemistry knowledge is necessary.
Henna Design Club
Improv Troupe
The WHS Improv Troupe (Robot and the Ready Readies) has been together for 15 years. The group holds auditions in September and is composed of around 15 members including understudies. Students rehearse twice a week and perform at events in and out of school. You will see them advertising many gigs for audiences throughout the year. 
Journeys
Key Club
Key Club provides members with opportunities to serve, build character, and develop leadership.  In partnership with the Kiwanis Club, students are making a positive impact as they serve others in their community. Volunteer opportunities include working on PTO community fundraising events, helping the elderly, clothing and food drives and volunteering at local town organizations. Annual events include helping the Fire Department with their Thanksgiving Dinner for senior citizens, stocking and sorting food at the Wellesley and Boston Food Banks. Students are encouraged to participate throughout the whole year and new members are always welcome to join at any time. Membership Registration Form https://forms.gle/x82JmPhiU1hn9EES9
Kickstart Stem
Kick for Kids
LBGTQ+ Student Environment Team (SET)
LGBTQ+SET is an advocacy group that works to improve the school experience for students who are LGBTQ+ (including students who are nonbinary, genderqueer, or gender non-conforming.) In past years the group has worked on designing a PD curriculum for teachers, advocating for gender neutral bathrooms, and volunteering for outreach to WHS Health classes. 
Love Over Hate
The Love over Hate brings JOY to WHS by members doing random acts of kindness around the school. Members act to spread positivity and help prevent bullying at WHS. The mission of the club also helps to dismantle the destructive cultural norms affecting WHS students (such as lack of sleep, college success narrative, academic pressure). 
Math Team
The Math Team is open to all students who want to enrich and broaden their experience in mathematical problem solving and mathematical topics not covered in math classes. Math Team members will compete in different math competitions. The Math Team meets one afternoon each week to discuss and practice problems and to explore new topics and interests in mathematics. Learn math to stump your math teacher!
Medicine Club
The Medicine Club aims to broaden students' interests in healthcare professions outside of their regular courses. Members hear from guest speakers about career paths, learn about the human body, prepare research projects, and explore a variety of medical journals. The club will plan fundraisers and events throughout the year to support causes advocated for by students. 
Mental Health Awareness Club
Mental Health Awareness Club (MHAC) is committed to mental health education, advocacy, and support, providing a safe space for all Wellesley High School students. Working to combat mental health-related issues in the community, MHAC brainstorms and implements innovative ideas to increase awareness and support for mental health. New members are always welcome, so join today for mental health discussions, projects, fundraisers, and more.
Mock Trial
The MBA's Mock Trial Program places high school students in a simulated courtroom, where they prepare a hypothetical case and then test their skills as lawyers and witnesses. MBA members serve as attorney coaches and judges, and thousands of high school students across Massachusetts participate. The team meets in the afternoons, evenings, and sometimes weekends. The official competition begins in January and lasts until March of each year. 
Model United Nations
Model U.N. challenges students to look at the world from the perspectives of many countries. Students work with each other and with high school students from around the region to solve the world's crises. Model U.N. meets twice a month and attends one to two conferences during the year. It is an excellent way to learn about history, politics and diplomacy.
Mountain Biking Club
The group plans rides and  talks about helpful bike maintenance skills and repair. All levels of experience are welcome.
Moving Company
This dance ensemble is showcased in the annual spring dance concert, Footnotes: A Dance Collaborative.  This performance is in collaboration with dancers from college, community and high school ensembles. Opportunities for students to learn the art of dance choreography and create original dance works for performance in the spring dance concert are available. Technique classes may also be available for dancers in the fall through the ERP program. Students will also have an opportunity to co-teach a pre-school dance workshop offered in the fall. Dancers at all levels of experience are welcome. 
Music For Society
The club offers opportunities to perform in low-stakes settings within and beyond our community. We want to give back to society by sharing our music with audiences who may not often have the chance to listen to live music. The club may perform at assisted living centers, retirement homes, elementary schools, hospitals, and during concerts open to the public.  
Music History Club
Muslim Students Association 
An affinity group  that brings together students of Muslim religious and cultural backgrounds that provides a safe space for them to engage in dialogue about issues that impact us. We hope to also promote a better understanding of Islam and challenge Islamophobic sentiments locally and nationally.
National Honor Society
The mission of the Wellesley Chapter of the National Honor Society is to continue to improve the academic climate at Wellesley High School. The classes of 2024 and 2025 with an unweighted grade point average of 3.50 or higher for courses beginning in grade nine are invited to apply to the Honor Society. Membership is not based exclusively on academic achievement; evidence of significant leadership, service, and character is also essential. Since grades are one standard used for membership in the National Honor Society, a junior or sophomore who transfers to Wellesley High School, may be considered for the Honor Society Induction in the fall of the next academic year. A student who transfers into the High School as a senior (including the summer before senior year) may not apply. 
In September, all Wellesley High School juniors and seniors who are not already in the National Honor Society and who have an unweighted Wellesley High School GPA of 3.50 (unrounded) will be invited to apply and will be sent a letter of invitation. Members are required to complete a minimum of 20 service hours and participate in at least two National Honor Society service activities each year to be considered an active member. Members who fall below the standards, which were the basis for their selection, shall be warned in writing by the chapter advisors and given a reasonable amount of time to correct the deficiency. In the case of a major violation of the school's code of conduct or a criminal violation, a member may be removed from the Honor Society after a hearing is held with the faculty council. 
All junior members are required to maintain a minimum GPA of 3.50 and complete a minimum of 20 hours of service during their junior year to retain their active membership status in September of their senior year. Failure to do so will result in dismissal. A written description of the selection and dismissal procedures is available to all interested parties upon request. 
New Student Ambassadors
New Student Ambassadors assist with the transition for 8th graders entering WHS as well as during the 9th grade orientation program. NSAs mentor new upperclassman transfer students during their first semester at WHS. NSA also provides guided tours of the school to prospective students after school hours throughout the school year. 
Photography Club
The Photography Club elects officers and operates the darkroom after school on selected week-days. Field trips to photo-related exhibits and talks in the Boston-Wellesley area are also planned throughout the year.
Psychology Applied to Life Situations (P.A.L.S.)
PALS works to bust the myth of psychology's sole use as a reactive clinical practice and aims to build students' understanding of their minds and behavior in everyday life.  Each month we explore topics in psychology that are relevant to students' cultural experiences and employ positive psychology to facilitate better social and cognitive practices.
Quiz Bowl
Meets weekly to answer trivia questions and have fun. Everyone is welcome and there is no commitment to come to meetings. The trivia question topics are very diverse and include almost everything. 
Raiders Reads
Meets in the WHS library. Students select a book to read and gather to discuss.
Science Olympiad
The Science Team competes in five monthly meets in the Western Suburban Science League, invitational meets, and the culminating event for the year: the Massachusetts State Science Olympiad competition. There are 23 separate events in Science Olympiad, which are organized into the following five categories: Life, Personal, and Social Science; Earth and Space Science; Physical Science and Chemistry; Technology and Engineering; and Inquiry & Nature of Science  The emphasis for this club is creative problem solving necessitating teamwork, rather than individualized work. Membership is open to all interested students grades 9-12.
Sports Debate Club
STEM Club / Botball Team
The STEM Club meets one afternoon each week. All students with an interest in engineering and robotics are invited; no experience needed.  Members can learn about robotic design and programming, work on independent engineering projects, or work toward robotics or other science and engineering competitions. The club annually participates in the regional Botball Competition held by KIPR (refer to Botball.org) which begins in late January and culminates in the April competition. 
Stock & Options Trading Club
The mission of this club is to give students experience trading stocks in a risk free environment. Members will use a simulated trading program to practice investing. In addition to trading, members will discuss any and all topics related to personal finance and current events, while developing a deeper understanding of the relationship between the public and private sectors. Through the practice of simulated trading, members will develop the skills needed to be successful with their investments.
Student Congress
Student Congress is an organization dedicated to representing the interests of all students within the school and working toward a positive school atmosphere. The Congress is a voice through which students address and act upon school and community issues. The Congress works for unity among students, faculty, administration and parents. Members serve on school wide committees with teachers and parents. Congress is proud to sponsor Seminar Day, Club Day, and other activities scattered throughout the school year. Student Congress is open to all. Membership is a year-long commitment.  
Officers include: President, two Vice-Presidents, Secretary-Treasurer, plus three School Council members-the President, and two elected at-large. One student representative to the Council will be appointed annually by the Principal. Terms for all Congress positions are for one year. Three non-voting student representatives to the School Committee are elected each year for a one year term.
Tenacity Challenge
Translation Club
This club relies on student and community volunteers to translate documents from English to Spanish, Chinese, Korean, French, and Turkish in support of the broader Wellesley community. This club reviews school and community requests for translation of flyers, invitations to events, general notices, etc. and will identify those the club is able to complete before the next meeting. A main goal of this club is to provide students an opportunity to apply what they have learned and know about a second (or third) language in a valuable real-life setting. 
Video Production Club
This club is designed to give an opportunity to anyone that is interested in using video cameras and editing videos on Adobe Premiere Pro. Students can work on their own personal video projects, film sports events, performing arts events, film  a movie or live TV show or, making a Youtube video. You will have access to the computers, editing software, cameras, mics and equipment at school to work on any project you have in mind.
Weightlifting Club
The Wellesley High Lifting Club strives to instate an open environment where any level of lifting experience is welcome. Whether you want to learn proper form, a good diet, or how to maximize efficiency in the gym, this club will help make you a better version of yourself. We strive to empower our members and build a tight-knit community that works together to lift each other up through strength training. 
The Wellesleyan (Yearbook)
The Wellesleyan Yearbook is an annual publication, produced entirely by WHS students as they chronicle each year at Wellesley High School. The photos, stories and artwork reflect the major areas of student life at our school. Yearbook is a hands-on digital publication course. Students develop skills in layout, copywriting, photography, advertising, financial responsibility and public relations through their course experience. Students who wish to work on the yearbook should enroll in various yearbook courses offered at WHS. Content creators (journalists, photographers, graphic designers, and data storytellers) are welcome to submit their work.
Wellesley High School Dance Club
A space where people come together to build relationships through dance. Our main focus is hip hop and Afrobeats, but we incorporate other dance styles depending on member interest. Members can work on their own dance moves, or do something collectively. The goal is to provide a stress-free environment that brings joy and calm by way of dance. 
Wellesley High School Literary Magazine – Red Ink
This fine arts publication is an outlet for student's creative work such as essays, poetry, drama, novel selections, short stories, artwork and photography. WHS Literary Magazine, Red Ink, strives to serve the student population as well as the community by providing a publication that reflects the quality of the students' work. In the club we work to advertise for submissions, review work, and prepare for publication. There is an online magazine and Red Ink is looking to offer a print version this year. 
Wellesley High School Tennis Club
The Wellesley High School Tennis Club's mission is to promote the sport of tennis for the enjoyment of students. This club meets weeklyat Hunnewell Tennis Courts. Students will play with peers to gain playing experience and prepare for tournaments and tryouts. Practice matches will be played in a non competitive environment and students will gain knowledge on different strategies for singles and doubles.
Wellesley Hiking Club 
We set up hikes in New England for all who want to experience some hiking in the area. Meeting places and times will vary. 
Wellesley Pride Clothing Drive
Our mission is to encourage the WHS community to help those in need by donating clothes to them. We meet once a month on Fridays to sort through the donated clothes. Bins will be located at the front entrance of the school. We believe that this club will encourage school spirit and community service. 
Women in STEM
The Women in STEM club is an inclusive group that emphasizes the experiences of women in STEM (science, technology, engineering, and mathematics) fields. The club provides students with the opportunity to work with students of like interests, provide outreach to the community, such as bringing STEM experiences to girls at WMS, participation in science competitions, and seeing guest speakers.
Woodworking Club
Students in the Woodworking Club work on a variety of projects in the wood shop.  Projects usually include making cutting boards and other gift items for the holidays during which students learn the basics of woodworking. Students can also choose their own projects, or work on finishing projects from Wood Manufacturing class.
Y.E.S. (Young Ethnic Scholars) 
The Young Ethnic Scholars meet to discuss the perspective and challenges of BIPOC students at Wellesley High School. Y.E.S. works to raise cultural awareness, promote diversity, equity and inclusion, and celebrates our differences. All are welcome.