By Peter Rovick, Wellesley Trails Committee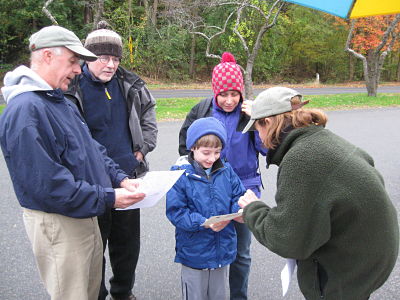 Families found hidden boxes in the Town Forest area adjacent to Longfellow Pond in Wellesley  on Sunday at the 4th annual Kids' Trails Day event sponsored by the Wellesley Trails Committee.  The event was a huge success with over 30 adults and 40 children participating.  Two options for "treasure hunting" were available.   Properly known as "letterboxing" and "geocaching," these activities involve following directions along the trails to search for boxes (plastic containers) hidden in designated locations.  The Trails Committee hid six letterboxes and six geocaches.
On the hunt! For letterboxing, families followed directional clues to locate a treasure box. Once kids found boxes, they stamped their cards/passports, reburied the box, and began following the next clues to search for another box.  Geocaching instructions provided coordinates that could be input into an iPhone or other device with GPS technology, so that parents and children could follow directions to find the treasure box (complemented by additional thematic clues:  e.g., find a location that looks like a pirates' island.)
Once families stamped their cards and completed their quests, they returned to the Longfellow Pond parking lot to join Trails Committee members for refreshments.  Families — including experienced letterboxers — came from as far as South Boston and Worcester to join us for this event, which was the first of its type by the Trails Committee.
Great Blue Heron sightings! Guests were treated to multiple sightings of two great blue herons inhabiting Longfellow Pond.   These long-necked birds typically are four feet in length and have a wingspan of six feet.
Wellesley Natural Resources Commission (NRC) member and Wellesley Trails Committee Liaison Joan Gaughan first advocated offering a Kids' Trails Day. The first three such events took place on property adjacent to Centennial Park and  included opportunities to build a survival hut,  participate in a scavenger hunt, and learn about local birds and biodegradability of items such as plastic and glass.
Planning Kids' Day: The Wellesley Trails Committee spent several months planning this event, creating the directional clues along the Town Forest trails next to Longfellow Pond, testing the clues (with help from Trails Committee members Diane Hall, Jared Parker, Miguel Lessing, Rina Rub, and Gaughan), and creating and revising the materials that were supplied during the actual event.  Trails Committee members Peter Rovick drafted the letterboxing clues and Denny Nackoney drafted the geocaching clues.  Special thanks to Denny for his many detailed efforts in planning, organizing, and hosting this great event!
Future events: The trails committee typically hosts four events every spring and fall, including guided trail walks.  For more information about these events and about our wonderful 25+ miles of trails, visit the Wellesley Trails website at: www.wellesleytrails.org.
Related Links: