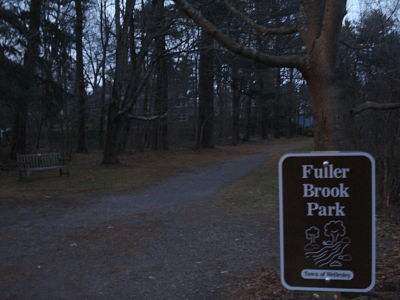 Wellesley residents Kurt Somerville and Kendra Chencus have helped to launch an organization called Friends of Fuller Brook Park, modeled on volunteer groups such as the Friends of Morses Pond, according to the Fuller Brook Park Coordinating Committee.  "Possible activities include organizing cleanup days, learning to help with invasive species control, promoting enjoyment of the park, and raising funds for park-related projects," according to Rose Mary Donahue of the Coordinating Committee. Contact Kurt for more info on the Friends' group.
About 80 residents attended recent presentations on phase 3 of the Fuller Brook Park Preservation Project, now in Phase 3 (final design and permitting), and you can catch up on those meetings via Wellesley Media cable and its website if you missed them.
RELATED: Goats to the rescue of Fuller Brook Park?