WellesleyPD Photo brings you the latest example of a driver crashing into a building, in this case a shed on Rte. 9 West/Bradford Road. No injuries reported.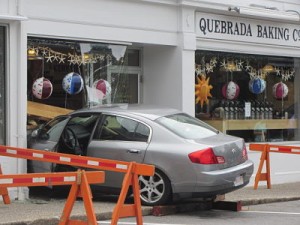 This follows a driver who smashed through the front of the Quebrada bakery in July, right near where a driver a few years back plowed through the front of the pharmacy.
That followed a driver in May smashing through a fence on Rte. 9 and into an Audubon Road home.
The list goes on and on if you go back a few years, there are plenty more examples, with Rte. 9 being an especially popular site for these accidents. As far as we know, there have been no repeat offenders.