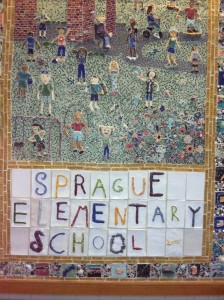 It took a dedicated art teacher, 293 students, plenty of parent involvement, and a PTO's generosity to the tune of $7,000 to create the 63-foot long, four-foot wide mosaic that now graces the Sprague Elementary School cafeteria.  Jen Stabnick, the school's art teacher who spearheaded this year-long project, and created other mosaics that grace the school, says "I'd like each student to have something permanent in the school" by the time they graduate from Sprague.
The mural titled A Feast of the World, depicts 102 people, each representing a country of the world or a region of the United States, tying in with the school's motto, "Many cultures, one school."   Plates of mosaic food show meals from around the world,  and real utensils that serve them up such as knives, forks, chopsticks, lobster crackers, miso spoons, and shish kebab skewers are embedded in the artwork.
Stabnick, who developed an appreciation for mosaic during graduate work in Venice, has wanted to do this project for about 10 years.  Its whole-world outlook is symbolized through the commonality of food, something everybody understands, and gave Stabnick the opportunity to emphasize one of the school's core values, Teamwork.   "We try not to focus on what makes people different," Stabnick says.  " Instead, we say that when everyone works together, amazing things can happen."
Check out the youtube video on the project.