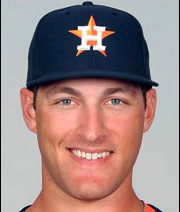 The professional baseball odyssey of slugging first baseman Nate Freiman, the 2005 Wellesley High grad who later starred at Duke University, continued this weekend, as he was grabbed by the Oakland A's after being placed on waivers by the Houston Astros. Freiman was initiated drafted out of Duke by the Texas Rangers, and later by the San Diego Padres.
Freiman was given a good shot by the lowly Astros in spring training, though he had a lot of competition at first base. The 6-foot-8-inch Freiman had some key hits and batted .278 for the Astros, but failed to show the sort of power that he displayed during a great minor league season last year for the San Diego Padres.
"He proved to us that he is what we thought he was," Astros general manager Jeff Luhnow said, according to the Ultimate Astros website. "Whether or not he's ready for the big leagues after being in Double-A, that's anybody's guess. But he did everything that we hoped he would. It's really not a reflection on him. It's a reflection on the fact that we stayed healthy and we have a lot of options at the corners."
Now Freiman will be given a chance to make the A's regular season roster. Because he has been designated as a Rule 5 free agent, the A's either need to keep him on their roster or send him back to the Padres, where he would likely at least start in the minor leagues. The thing he has going for him here is the A's are known for taking chances with relatively unknown players, and while they finished in the middle of the pack scoring runs last season, could always use a power infusion. Freiman could wind up being a right-handed platoon option at first base, spelling former Red Sox player Brandon Moss against lefties.
Freiman actually lives nearby the A's spring training facility in Arizona, so that's a plus with this latest career opportunity.
The A's visit the Red Sox the week of April 22.