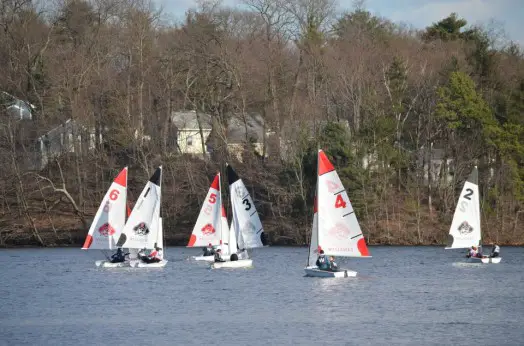 The Wellesley High School sailing team has a fresh fleet of 6 new boats, Zim Club 420 models, to help it better compete this season on its home course at Lake Cochituate in Natick and at away races.
Overall, the varsity and JV teams combined have 26 sailors and 12 boats, which are each operated by a skipper and a crew.
According to one WHS sailing parent, many members of the team hone their skills at Farm Pond in Sherborn, Community Boating in Boston and Courageous Sailing in Charlestown during the off-season.
Nearly $40K has been raised by Wellesley Sailing Club, Inc., to fund the boat purchases, though the club is looking to offset some of the cost via the sale of red/black Wellesley fleece stadium blankets ($40 apiece, send email here for more info), conducting a raffle for an iPad and holding its annual Yard "Sail" at  Hardy School on May 4.
If interested in seeing the team in action, here's the schedule.
(Photos courtesy of Debora White)