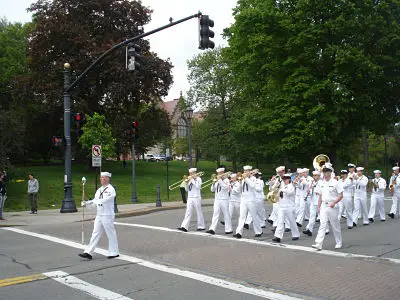 The Wellesley's Wonderful Weekend schedule has been posted and it features a lot of the usual things, plus a few new ones, including a car show, an historical walk and an art show:
Friday, May 17
3:00p.m. – 6:00p.m.
 Annual Hunnewell Fun Fair* — Hunnewell School PTO
Hunnewell Elementary School, 28 Cameron Street, Rides, games, crafts
Saturday – May 18th
7:00a.m.—2:30p.m. Pancake Festival* at the Wellesley Middle School — Rotary Club of Wellesley
7:00a.m.—2:30p.m. Free Eye Exams at the Needham Lions Club Eye Mobile at the Wellesley Middle School — Needham Lions Club
Saturday—Sunday
(decamp after parade)
18th Century Military Encampment at Town Hall Grounds
The Royal Irish Artillery, Tours all day, Cannon Firing on the half hour on Saturday
9:00a.m.—10:00a.m.
 Town Forest Walk — Wellesley Trails Committee
Longfellow Pond parking lot (left side of Oakland Street 0.9 miles south of Rt. 9)
9:00a.m.—10:30a.m.
 Guided Walk "How Transportation Shaped Wellesley" — Wellesley Historical Society
Dadmun/McNamara House, 229 Washington Street (East corner of Route 9)
9:00a.m.—3:00p.m.
Wellesley Community Center's Wheels of Wellesley

219 Washington Street
Exotic and Antique Cars and Motorcycles; magicians; a country singer and more.
9:00a.m.—3:00p.m.
 Art in the Park — Wellesley Community Art Project & Wellesley Women Artisans
Simon's Park (Corner of Washington & Brook Street, left of the Library)
10:00a.m.—11:30a.m.
 Dog Contest*
Wellesley Board of Health, & Wellesley Animal Control
Warren School Field, 90 Washington Street (Route 16)
Prizes awarded in various categories including "shaggiest", "best grooomed", "best tricks", "wiggliest", and many more!
10am – 1:30pm
Wellesley High School Lacrosse Team's Car Wash  In front of ACE Wellesley on Linden Street.
11:00a.m.— 3:00p.m.
Open House at Wellesley Police Station — 485 Washington Street
11:00a.m.— 3:00p.m.
Open House at Wellesley Main Fire Station #2 — 457 Worcester Street (Route 9)
11:00a.m.— 3:00p.m. Open House at Wellesley Municipal Light Plant — 2 Municipal Way (455 Worcester Street, Route 9)
11:00a.m.— 3:00p.m. Open House at Wellesley Department of Public Works — 20 Municipal Way (455 Worcester Street, Route 9)
1:00p.m. — 3:00p.m.
 Build Your Own Woodland Troll & Fairy House — Wellesley Conservation Council
Cochituate Aqueduct, Russell Road / Kendall Road (for elementary school kids)
4:00p.m.
Veterans' Ecumenical Memorial Mass at Saint Paul Church
Wellesley Veterans' Council
502 Washington Street
 Sunday – May 19th
9:00a.m.—3:30p.m. Gardeners' Fair at Elm Bank — Mass Horticultural Society
Elm Bank Horticulture Center, 900 Washington Street
1:00p.m.—3:00p.m.
45th Annual Wellesley Veterans' Parade
2013 Theme: 60th Anniversary of the end of the Korean War
Wellesley Celebrations' Committee
4:00p.m.—5:30p.m. Grace Knight Babson Fund for Religious Education — 54rd Annual Program
Knight Auditorium, Babson College Campus, Wellesley Avenue
5:00p.m. — DUSK
 Picnic in the Park at Hunnewell Field
Food*, drinks*,kid's rides*, crafts, games & other fun
Food by Charles River Rotary and others
6:30p.m. Main Attraction
 Concert for Wellesley at Hunnewell Field
Featuring the Reminisants
DUSK
Fireworks —the Biggest Ever! at Hunnewell Field
*Please note, asterisk indicates a small fee may be charged.