Wellesley will be bustling with activities this weekend, including:
*A guided trails walk at Boulder Brook Reservation from 9-10 am Saturday, June 1. Meet at Kelly Memorial Park parking lot on Elmwood Road.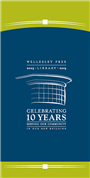 *Wellesley Free Library's main branch celebrates its 10th anniversary, with the following activities:
1pm     Dedication of exterior Kepes Panels
2pm     Flute & Piano Concert
4-6:30pm   An  "anniversary party" open house will feature activities for the whole family, including appearances by actors portraying beloved book characters and revered authors. Visit with Clifford the Big Red Dog, hear stories and rhymes from "Mother Goose," or chat with "Mark Twain" and "Walt Whitman".  Meet "Shakespeare" and be amazed by an (absolutely scrumptious) architectural cake depicting the Library building! Free and open to the public.
*Schofield 5K road race & fun fair, with the race kicking off at 930am on Sunday, June 2 and the fun fair going until 1pm at the school, located on Cedar Street.
*7th annual Wellesley-Weston PMC Kids Bike Ride at Babson College:
3 Routes: Ages 3-13
Registration fee: $25
Mandatory fundraising minimum: $25
Suggested fundraising minimums: Tot lot: $50; 6-8 year olds: $75; ages 9 and up: $125.