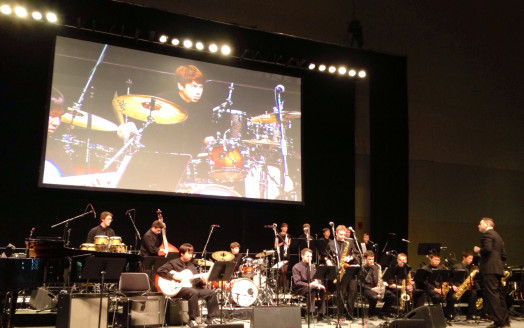 The Wellesley High School Two O'Clock Jazz Band took home first place at the annual Berklee College of Music Jazz Festival this past weekend.
Brian Rolincik and Ethan Watson were also awarded Outstanding Musicianship awards.
More than 200 bands and vocal groups including a total of 3,000 students from 13 states took part in the event in downtown Boston.
The WHS band's set included works by Horace Silver, Duke Ellington and Mary Lou Williams.  Following the awards ceremony the band performed for the Winners' Showcase at the Veteran's Memorial Auditorium, Hynes Convention Center.
As part of the award, the WHS Performing Arts Department received over $8,000 in scholarships to Berklee's Summer Music programs for its students. This spring, Berklee will also send, free of charge, one of their  jazz faculty members to give a master clinic at Wellesley High.
Band Director Steven Scott lauded the musicians' "level of improvised jazz soloing as well as our overall ensemble sound, drive and expressiveness."
Soloists for the band's winning program included:  Ian Hoffman (piano), Ian Kinney (clarinet), Peter Garland (alto sax), Graham Hulsey (tenor sax), Ben Scammell (trumpet), Brian Rolincik (trombone), Jack Griffin (bass) and  Matt Honan (alto sax).
Here's a photo of band members rehearsing: