Here at The Swellesley Report, we are committed to reporting about the events in our town.  Monogamous through and through, we don't even look at the news across the border. We've been at this for a long time and can honestly say that we do not give one whit about other towns' overrides, no matter how contentious their Yes/No debates become.  If there's art out there in the world besides "The Sleepwalker," I can't rightly say we've heard tell of it.  Other high schools' graduation speeches?  They are so not special.
But when it comes to shopping, we've been known to secretly stray. Don't judge us.  Let's just say we're only human, especially when it comes to home furnishings and kitchen supplies.  So when Didriks, a home furnishings and accessories store and Local Root, a kitchen supplies and tabletop accessories store opened up early spring in The Mill at Newton Lower Falls, we had to make a furtive run across the border for a shopping quickie, just to see if maybe we were missing out on something.
Owner Jonathan Henke has put together a high-style space downstairs from Gregorian Rugs, with poured concrete floors and beautiful merchandise everywhere in a combined space where Didriks flows into Local Root. Because it's the type of place that's a cut above the company, the word "curated" just has to jump to mind.  But it's not curated in that scary, pared down, store-as-museum sort of way.  The place is loaded with merchandise, at all price points. You can buy a ninety-cent cake tester at Local Root, or walk to the front of the store at Didriks to browse the Barlow Tyrie outdoor furniture that runs substantially higher.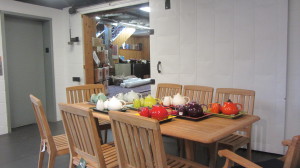 They have Oxo anything, as well as splurgy Mauviel French cookware.  Casual throws, wineglasses, indoor/outdoor area rugs, china and flatware galore, linens, throw pillows, outdoor tables and chairs, and just about anything you can think of to freshen up your home for spring is there, just across the border.
Think of it as your go-to place to satisfy your inner hipster.  The stuff is that cool. But just because we've gone public about our secret forays into towns that are not Wellesley, it doesn't mean that our allegiances have shifted. Before you know it we'll be back publishing posts about the North 40, and asking you to look out for someone's lost pet.  It was just a little dalliance. Nothing more.