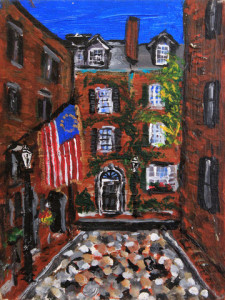 Late last year we wrote about ArtLifting — a local outfit that helps homeless and disabled artists sell their work online — because the founders are a brother and sister who grew up in Wellesley.
Those siblings, Liz and Spencer Powers, are now attempting to expand ArtLifting beyond Boston to five other cities: Chicago, Detroit, San Francisco, New York City and Washington, D.C., and they using the Kickstarter crowdfunding site to raise funds. They're shooting for $20K, which would allow expansion within the next six months and support an additional 65 artists.
The Kickstarter campaign ends on Sept. 11.
RELATED: Wellesley researcher/sex trafficking survivor seeks to crowdfund Ph.D.