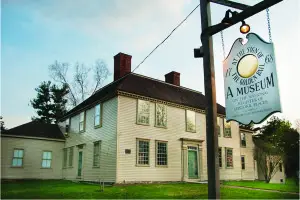 The Wellesley Historical Society will hold its annual dinner on September 28 at Weston's Golden Ball Tavern, which was built in 1768. There will be tours of the tavern, the event will pay tribute to the Wellesley Police Department, and Chief Terrence Cunningham will be the guest of honor.
Ten percent of proceeds from fundraising events such as the annual dinner and the Wellesley Calendar go to the Society's scholarship fund and the scholarship recipients and their families will be honored at the dinner.
Dinner tickets are $50 per person and the event is open to supporters of the Society.
Separately, the Society's annual golf tournament will be held at Nehoiden Golf Club on October 6 and will include breakfast, lunch, prizes, and 18 holes of golf. The cost is $50 per golfer and is open to all.
For more information, contact Erica Dumont, executive director, at (781) 235-6690 or [email protected]wellesleyhistoricalsociety.org.