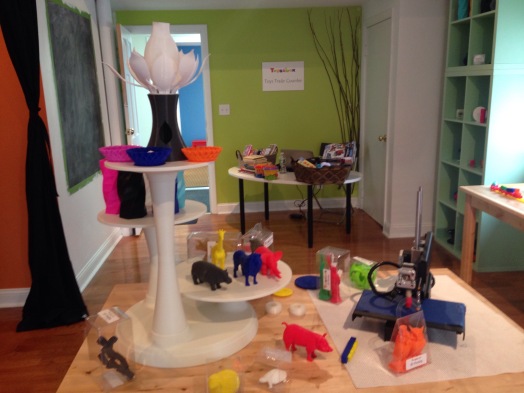 A colorful new business called Toys in Box quietly opened for business in Wellesley over the weekend, offering an eclectic mix of 3D printing services for kids and adults.
Toys in Box is located at 1 Cameron St., so should attract curious families from the nearby Hunnewell Elementary School and patrons of the Wellesley Free Library for starters.
I happened by the small storefront on Columbus Day and took a look around inside, which is filled with MakerBot and other printers and scanners, and hundreds of brightly colored toys and other items, such as sphere-shaped decorations hanging from the ceiling, mugs and jewelry. Visitors can buy plastic merchandise, such as $2.99 bracelets; come in with their own designs for toys or other items (one customer brought in a Mayan design to replace the VW grille emblem on his car and another makes puzzles from 3D designs); and even scan themselves to create a 3D likeness.
3D printers on display can be seeing pumping out toys, though be warned that some can take many hours to finish.
Kids can also come in with their unwanted toys in order to swap them with other kids. They earn points that can be used to purchase other items and can even request 3D printed copies of toys they might like to have in a different color or design.
What's more, Toys in Box will offer 3D training and consulting, as well as provide a unique birthday party setting in which kids can experiment with 3D models.
The business is the brainchild of Jessica Kong, whose family got intrigued about 3D printing last year when attending the big South by Southwest (SXSW) music/tech/film/Internet culture show in Austin. Kong's husband, who gave me a tour of their shop but asked not to use his name since it's his wife's business, said 3D printing became something of a family hobby. They acquired a printer to play around with at home, and Toys in Box emerged from there.
Kong's family used to live in this area before moving to Austin, and opened Toys in Box upon recently moving back to this area. They did a test run of Toys in Box at the Burlington Mall recently to see if the concept would fly before opening in Wellesley.
As 3D printers come down in price they are becoming more affordable for consumers (they run from a few hundred dollars to a few thousands dollars) and are also turning up at schools and colleges (Wellesley College has some). But they're still enough of a rarity that ToyinBox should be able to attract a following.