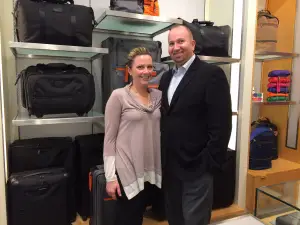 Amy Lynch and Demian Wendrow, the new owners of Wellesley Square retailers London Harness and Tumi as of Oct. 31, are celebrating with an open house at 45 Central St., in Wellesley Square on Thursday, Nov. 20, from 5:30-8:30pm. You can RSVP here if interested in attending the event, which will feature light fare, prizes and the announcement of a partnership with the Leukemia and Lymphoma Society.
Lynch and Wendrow should have a few good stories to share, including their own. They met 13 years ago when they began working at luggage and handbags retailer London Harness, and have since married. And now they own the joint.
UPDATE: London Harness posted this recap of the event, including a video, on their website.
RELATED: Wellesley Square Merchants' Association