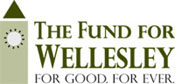 The Fund for Wellesley is now accepting grant proposals from Town departments and charitable organizations that serve the Wellesley community.
The Fund, which is supported through donations from Wellesley residents and businesses, seeks to find new ways to support the town's most vulnerable populations, and strengthen a sense of community and philanthropy.
To date, the Fund has made grants totaling almost $200,000 in support of a variety of programs, including English as a Second Language, suicide prevention, after school programs and Volunteer Drivers for the Council on Aging.
This year, in order to broaden its reach and encourage greater participation from area nonprofits, the Fund is launching its first competitive grant program.  It is particularly interested in programs that encourage all Wellesley residents to participate more in the community by seeking to alleviate factors that limit civic participation such as economic need, age, and physical or mental disability.
Interested organizations should visit www.thefundforwellesley.org to review grant guidelines and apply online.  Grant applications are due March 19, 2015 and grants will be awarded in early May.