Imagine our distress last year at our Wellesley High School Seminar Day debut when we found out that we were scheduled at the same time that good ol' Chuck, who runs security at the school, would be regaling students with tales from his time as a corrections officer at MCI Walpole. We stood no chance.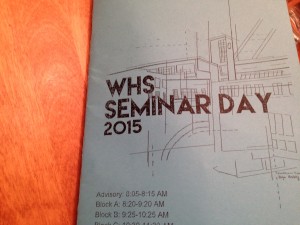 This time around, we come in better prepared to attract education- and entertainment-minded students at this annual half-day event in which dozens of experts from inside and outside the Wellesley Public School system show up to share their knowledge. We'll even include a police surveillance photo in our presentation to keep the crime crowd happy. We're also told we should bring candy, so we'll do that. And for those of you even thinking of going to see a session about puppies during our mind-blowing presentation a 8:20am, be assured that you can get your dog fix during the second block. Plus, we'll be bringing baby polar bears*.
*Well, we'll have a photo of them.