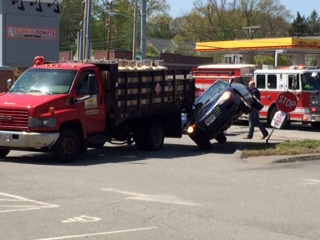 Wellesley emergency personnel responded to an accident on Friday afternoon at the Dunkin' Donuts on Rte. 9 east in which a car reportedly got rear-ended into an awkward position partially under a truck. The police report that no one was injured.
Dunkin' Donut employees told a Swellesley reader who happened by that the truck, filled with canisters and bearing a Flammable sign on its side, had turned into the store parking lot at Overbrook Drive, followed by a car that was hit from behind as it was slowing to pull in. The car was propelled sideways into the stop sign, which lifted and wedged the car against the truck.
Traffic along the road was backed up for a while.
It would be beneath us to mention how quickly police were able to respond to this particular accident given the location.