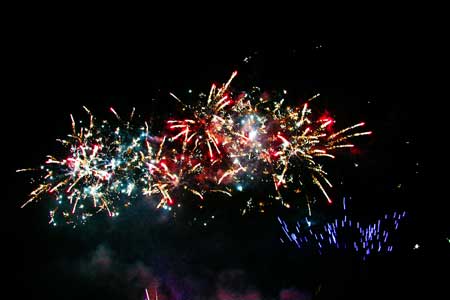 Wellesley's Wonderful Weekend schedule has been posted, and the schedule is jam-packed with fun that will be capped off on Sunday night with what's being billed as the biggest fireworks display ever. Make some time to attend as many of the activities as you can.
Friday, May 15
3:00p.m. – 6:00p.m.  Annual Hunnewell Fun Fair*  — Hunnewell School PTO
Hunnewell Elementary School, 28 Cameron Street, Rides, games, crafts
Saturday, May 16
7:00a.m.—2:30p.m.  Pancake Festival* at the Wellesley Middle School — Rotary Club of Wellesley, 50 Kingsbury Street
7:00a.m.—2:30p.m.  Free Eye Exams at the Needham Lions Club Eye Mobile at the Wellesley Middle School — Needham Lions Club, 50 Kingsbury Street
Saturday—Sunday  18th Century Military Encampment at Town Hall Grounds, The Royal Irish Artillery, Tours all day, Cannon Firing on the half hour on Saturday, 525 Washington Street
9:00a.m.—10:00a.m.  Morses Pond Walk — Wellesley Trails Committee. Meet at gate to Morses Pond at end of Turner Road (off Weston Road)
9:00a.m.—3:30p.m.  Gardeners' Fair at Elm Bank* — Mass Horticultural Society, Elm Bank Horticulture Center, 900 Washington Street (8am start and free for members). Fun for Kids, Food, Special Lectures, Garden Tours. Garden tours at 9a.m. and noon. Fairy houses at 10:00a.m. Herbal Seed starting at 1:00p.m.
9:00a.m.  Wellesley Square: Then and Now — Wellesley Historical Society. Meet at Wellesley Town Hall, 525 Washington Street  Free 90-minute, one-mile, guided historical walking tour.
10:00a.m.—11:30a.m.  Dog Contest, Wellesley Board of Health, & Wellesley Animal Control, Warren School Field, 90 Washington Street (Route 16)Prizes awarded in various categories including shaggiest, best grooomed, best tricks, wiggliest, and many more.
10:00a.m.—2:00p.m  Wheels of Wellesley @ Wellesley Community Center, 219 Washington Street, Featuring Exotic and Antique Cars, Motorcycles, and Bicycles plus live music from Cindy Lane Adams Band plus the Back to the Future Car
10:00a.m.—2:00p.m  Wellesley Farmers' Market, 309 Washington Street
Come enjoy a variety of just picked fruits and vegetables, award winning fine food purveyors and special events to delight shoppers of all ages.
10:00a.m.— 3:00p.m  MLP Open House and Sustainable Living Festival at Wellesley Municipal   Light Plant — 4 Municipal Way (455 Worcester Street, Route 9)
Family event for everyone with ideas for your home, garden, finances, health, plus kids' zone, fashions, beauty products, guitars, cars, etc.
10:00a.m.—4:00p.m  Raptors, Goats, and You – Explore the North 40 – Wellesley Celebrations Committee
Morses Pond Parking Lot (and follow signs) Hay rides from Morses Pond parking lot, Garden tours, the Raptor Project – Birds of Prey, The Goat Girls.
11:00a.m.— 3:00p.m.  Open House at Wellesley Police Station, 485 Washington Street
11:00a.m.— 3:00p.m.  Open House at Wellesley Main Fire Station #2, 457 Worcester Street (Route 9)
noon — 4:00p.m.  UU Wellesley Spring Carnival, 309 Washington Street
Classic carnival games and activities for all ages. Kiddie bounce house, face painting, pie eating contest, teen obstacle course, dunk tank, concessions and music.
1:00p.m. — 3:00p.m.  Build Your Own Woodland Troll & Fairy House — Wellesley Conservation Council
Cochituate Aqueduct, Russell Road / Kendall Road (for elementary school kids)
1:00p.m.—4:00p.m. Art in the Park — Wellesley Community Art Project & Wellesley Women Artisans
Simon's  Park (Corner of Washington & Brook Street, left of the Library)
4:00p.m. Veterans' Ecumenical Memorial Mass at Saint Paul Church
Wellesley Veterans' Council, 502 Washington Street
7:30p.m.  Sol y Canto* "Sublime ambassadors of Pan Latin traditional Music"
Wellesley Rotary in partnership with the WHS Spanish Club
Wellesley High School, 50 Rice Street
8:00p.m.  Spring Concert featuring Edward Whalen* — Wellesley Choral Society
Wellesley Hills Congregational Church, 207 Washington Street
Sunday, May 17
8:00a.m.-5K Run
9:00a.m.-Kids 1K Run  Wonder Run 5K and Kids Fun Run 1K* —Wellesley Hills Junior Women's Club
Wellesley High School, 50 Rice Street
Registration here.
1:00p.m.—3:00p.m.  47th Annual Wellesley Veterans' Parade
2015 Theme: 40th Anniversary of the End of the Vietnam War
Wellesley Celebrations' Committee
Bring a food item to the parade for the Wellesley Food Pantry
Look for the World of Wellesley (WOW) Float
The parade starts at the intersection of Route 16 (Washington Street) and Route 9 and continues westbound along Route 16 to Wellesley Square. The reviewing stand is in Wellesley Square.
4:00p.m.—5:30p.m.  Grace Knight Babson Fund for Religious Education — 55th Annual Program
Knight Auditorium, Babson College Campus, Wellesley Avenue
5:00p.m. — DUSK  Picnic in the Park at Hunnewell Field
Food*, drinks*,kid's rides*, Hay rides*, crafts, games & other fun
Food by Charles River Rotary and others
6:30p.m. Main Attraction  Concert for Wellesley at Hunnewell Field
Featuring the Reminisants
DUSK  Fireworks —the Biggest Ever! at Hunnewell Field
Sponsors: Roche Brothers/Sudbury Farms and Wellesley Dental Group, Drs Ali and Ali
*Please note, asterisk indicates a small fee may be charged.