Even traveling as far away as Montana and Wyoming earlier this summer, we weren't entirely separated from Wellesley. We did take a little break from documenting the daily doings of Wellesley (we prepped a bunch of items to post on The Swellesley Report at scheduled times while we were away), but did keep our eyes and ears alert for Wellesley angles to bring back with us.
Shopping one day with friends from Montana we came across a big outdoor work and play goods store called North 40 Outfitters that brought to mind the North 40 property recently acquired by the town. No controversy detected out here though.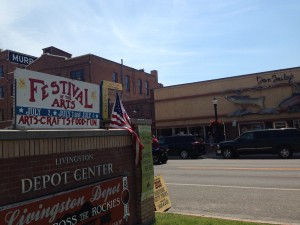 While in a funky little town called Livingston, several of us ran a 5K road race in support of a youth center called Landon's Lookout. The organizer, in a pre-race pep talk, encouraged all to have fun and assured us this was not any sort of Boston Marathon qualifier (kind of a Wellesley angle since the marathon course goes through our town, right?).
Up in Glacier National Park we hiked the glorious Highline trail with its Garden Wall, mountain goats,marmots and many mountainous views. Upon seeing one of our party's Wellesley High gear, a passerby started singing a song that went something along the lines of this, spelling out the word "Wellesley," as in Wellesley College, we assume.
It turns out we weren't the only Wellesleyites in Montana either. Imagine my surprise upon picking up a complimentary copy of the Great Falls Tribune newspaper and seeing Boston Celtics coach and Wellesley resident Brad Stevens on the front page. Turns out he was appearing at a basketball clinic, helping out an old friend. Our appearance was not written up, however, except right here.