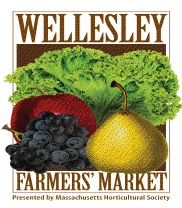 The Wellesley Farmers' Market will return to its lovely location on the lawn of the Unitarian Church at 309 Washington St. for its 2016 season. Mark your calendar: opening day will be June 4th and the market will run through October 15th on Saturdays from 9am – 1pm.
Vendors, sponsors, and performers interested in applying should message the Farmers' Market Facebook page.
The Farmers' Market — which started small in 2012 and 2013 in the Whole Foods parking lot, then went on hiatus in 2014 — came roaring back in 2015 at the prettier and roomier location on the church grounds. The usual healthy stuff will be on hand this year: fresh fruits and vegetables, as well as meats, eggs and cheeses from local farms will be available, and food from speciality providers. Online ordering and flexible delivery options will be offered, too.
If you can't wait until May, keep in mind that Natick has a market that runs indoors in the center of town during the winter at the Common St. Spiritual Center, 13 Common St.
RELATED:
Bootstrap Compost Service worms its way into Wellesley