Wellesley twins Mikey and Channy Licata just celebrated their 7th birthday over the weekend, and from the looks of the elaborate Back to the Future party they had, mom and dad better getting crackin' on next year's affair if they want to try to top it.
The boys' mom, Liz, credits husband Mike (a.k.a. "Doc" Brown) for masterminding the party decorations, which he mainly did by hand. "They do love the movies, as does Mike," she says of the 1985 sci-fi comedy that debuted quite a few years before the kids were born.
The Licatas transformed their chunk of Wellesley into the movie's Hill Valley, complete with the famous clock, a movie theatre showing Jaws 19 in the year 2015 (that's the year from which the movie's Marty McFly arrives from the past in Back to the Future Part II), and 1950s shops, including Lou's Cafe and Roy's Records.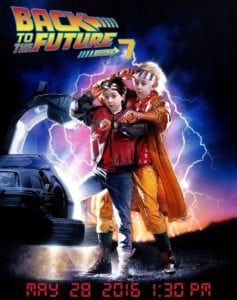 Wild west scenes from Back to the Future Part 3 weren't overlooked either.
At this wild party, one DeLorean made it onto the family's roof. Another showed up in a trailer, and the kids got to take the wheel.
As you might imagine, this family is building up quite a birthday track record. Past Star Wars and superhero-themed birthday parties didn't look too shabby either…
You can check out more party action on the Licatas' Twin Peeks + One blog.