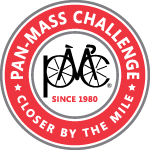 Volunteer for the 37th annual Pan-Mass Challenge on August 5, 6, and 7th at the race's  Babson College Hub Site in Wellesley. Volunteers are needed for the following crews: Parking and Traffic, Site Beautification, Luggage, Logistics, Bike Parking. Without hands-on support, the PMC ride couldn't happen. Each year, approximately 3,500 volunteers make sure the PMC weekend is safe, comfortable and fun for all. These selfless participants help PMC deliver 100 percent of every rider-raised dollar directly to the Jimmy Fund.
By volunteering for the PMC, you can transform your energy, your compassion, and your encouragement into furthering cancer research at Dana-Farber Cancer Institute. PMC volunteers make a difference in the lives of cancer patients. That's where you come in.
Become a PMC volunteer because you:
Want cancer to end
Possess the capacity to help
Have the resolve to act
The Wellesley start and finish have an energy all their own. Closer and more convenient for families and Boston area residents, Wellesley has grown significantly in recent years. Situated in the middle of a beautiful campus, the Wellesley start has the space to allow family and friends to send off several thousand riders on Saturday morning. Over the course of the weekend, the site is transformed from a Saturday start to a Sunday site with both start and finish lines.
For a list of open positions and to register: visit www.pmc.org/volunteer.