The following is an update on the Track & Field project from the Wellesley Department of Public Works. All photo credits to the DPW.
After a busy week of field work, the track and field is becoming more noticeable. The synthetic turf (green carpet) and the end zone goal posts were installed. The sidewalk along Smith Street was finally paved with bituminous concrete and the old 6' high chain link perimeter fence behind the sidewalk was replaced with a new 8' high chain link fence. The footings for the donor wall and flag pole were also installed. More work remains to be done before the track & field can be used. This work includes electric utility installation, jump pits, track surface, ticket booths, path to the ticket booths, landscaping, sound system, donor wall and field markings. At this time, we are projecting an early October opening, but we are all hoping for something sooner, provided good weather and good fortune continue to be on our side.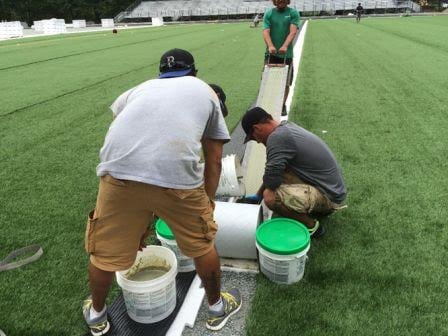 Your comments and questions regarding the Wellesley High School Track & Field project are always welcome. Please call the Department of Public Works Engineering Division at 781-235-7600 x 3315 or email at gbruno@wellesleyma.gov.