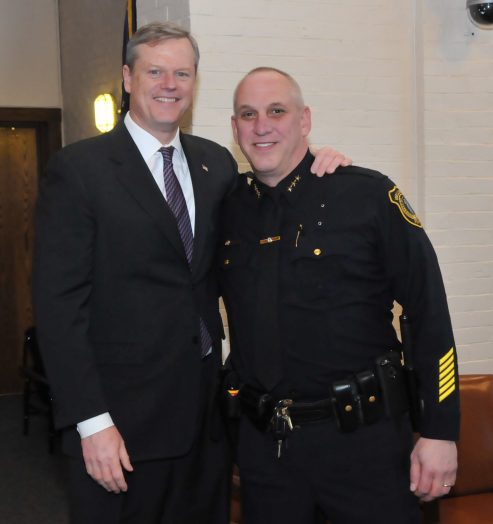 34-year Wellesley Police Department veteran Jack Pilecki on Monday was officially sworn in as WPD's chief, replacing Terrence Cunningham, who held the post for 17 years. Pilecki begins the new job on Feb. 6.
Gov. Charlie Baker stopped by the Wellesley Town Hall to officially congratulate Deputy Chief Pilecki prior to him being sworn in as the next Chief of Police.
Pilecki joined the Wellesley force in 1983 and served as a patrolman until 1992, when he was appointed as the department's court prosecutor. In 1997, Pilecki was promoted to sergeant, where he supervised the evening and overnight shifts in the patrol division.  In 2001, he was promoted to the rank of Lieutenant, and commanded the entire patrol division as well as the Emergency Communication Center. In 2013, Pilecki was promoted to Deputy Chief.
Deputy Chief Pilecki will become Wellesley's 9th Chief of Police since the department's inception in 1893.