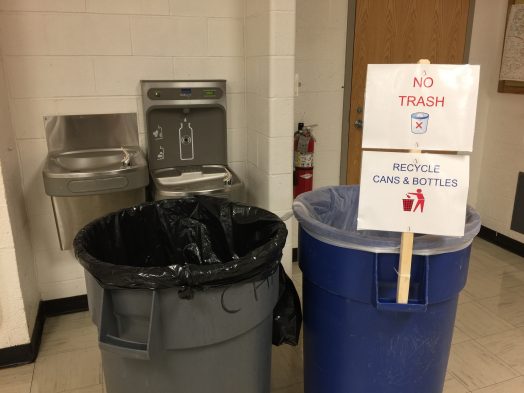 Wellesley Middle School has recently taken steps to make recycling bottles and cans easier, and that's no minor thing considering about 300 of the containers are sold per day in the cafeteria.
New and improved recycling receptacle locations and signage have been implemented — the result of teamwork between school administrators, cafeteria management, custodial services, and of course, students. The WMS Green Team initiated the process.
The change should result in far fewer bottles and cans winding up in landfills along with general trash.
The next step is to capture deposits from refundable bottles and cans, which could add up to $2K per year that the school and student organizations might put to use, says Jeanne Hoerter, Wellesley Green Schools team member (WMS and Fiske PTO Green Team representative). The logistics, from adhering to cleanliness codes to actually turning in the cans/bottles for refunds, will need to be sorted out.
Another green initiative at WMS involves freezing unserved leftovers daily and delivering them weekly to a homeless shelter via a parent volunteer.
The Wellesley Public School system uses single-stream recycling, though implementation varies by school, Hoerter says.
Among elementary schools in town, Bates has been a leader in recycling and food waste recovery, with other schools looking to adopt some of its best practices. Bates, which last year joined the EPA's Food Recovery Challenge, reduces overall trash weight by funneling unused liquids into an industrial drain in accordance with town codes, and Fiske plans to implement such as liquid disposal station of its own next month. Cafeteria food donations, composting and stacking of unsoiled trays are among other green initiatives implemented or in the works.