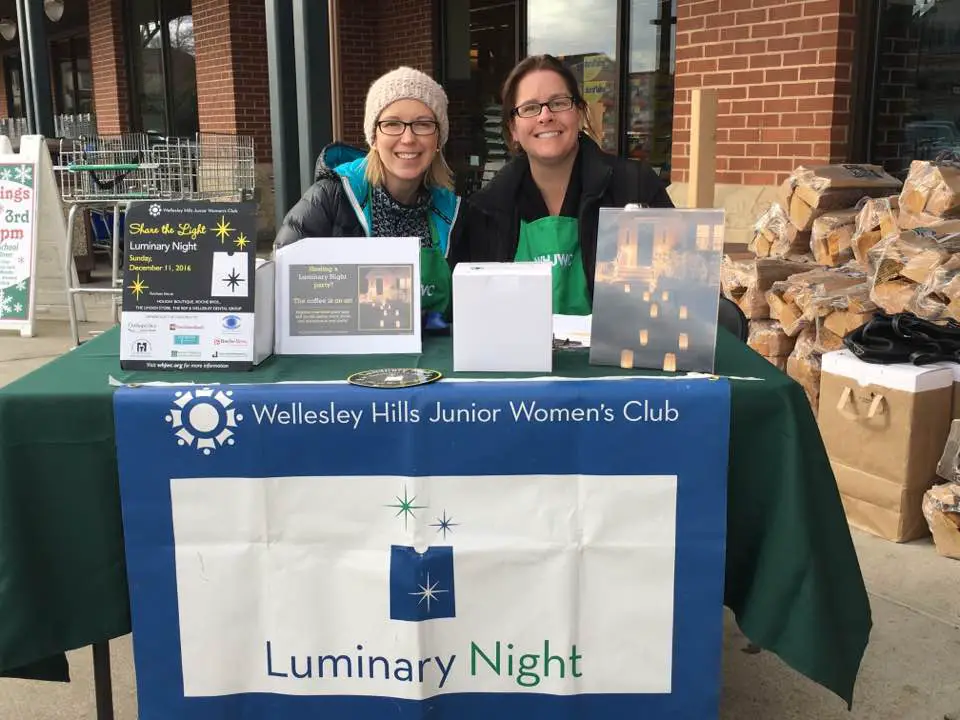 SPONSORED POST: Don't be left in the dark. There's still time to get your luminary kit and share the light with your neighbors and The Wellesley Hills Junior Women's Club's (WHJWC) during the 11th Annual Luminary Night, which this year takes place on Sunday, Dec. 10. On Luminary Night, neighborhoods and businesses throughout Wellesley light luminary candles along their streets, sidewalks and doorsteps, creating a beautiful town-wide glow that welcomes the holiday season. Some years the weather cooperates with a little light snow, which of course adds to the holiday fun of it all, so concentrate your thoughts in that direction.
Get your kits this week — Juniors will be sitting in front of Roche Bros. December 5 – 10 , ready to supply you with everything you need to help create the beautiful glow of community in your neighborhood on the big night. Luminary kits are also available online now at www.whjwc.org and at Roche Bros. customer service, Wellesley Holiday Boutique,  and Wellesley Dental Group. Each kit includes 10 luminaries and sells for $20. Kits purchased online will be delivered by December 10.
Most importantly, the warmth of the estimated 13,000 candles that will light up the town spreads directly to the Wellesley community. Last year, Luminary Night raised $27K, money that was used, as always, to support a number of local charitable organizations and fund scholarships for WHS students. They don't do it all alone, of course. Luminary Night is sponsored by Barber​ ​Real​ ​Estate​ ​Group​ ​of William​ ​Raveis​ ​Real​ ​Estate,​ ​Brendon​ ​Properties,​ ​Eye​ ​Care​ ​&​ ​Laser​ ​Surgery​ ​(LASIK)​ ​-​ ​Marc Leibole​ ​M.D.,​ ​Needham​ ​Bank,​ ​and​ ​Roche​ ​Bros.
For more information about Luminary Night, please visit www.whjwc.org.
The Wellesley Hills Junior Women's Club is an organization of  volunteers who give of their time through hands-on service and fundraising efforts.  WHJWC's annual fundraisers include Wellesley Marketplace, Luminary Night, Wellesley Kitchen and Home Tour, and the 5K Wonder Run and Kids Fun Run.