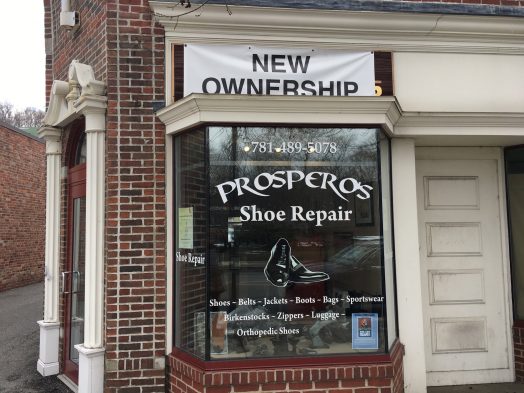 Swellesley readers contacted us on Friday to see if we knew what was up with Prospero's Shoe Repair at 294 Washington St., in Wellesley. They say the shop, formerly David's Shoe Repair, is closed (it's usually open until 6pm) and there's no sign on the door to explain things.
We tried the phone number, which is out of service, and have sent email to the owner.
Meanwhile, customers' shoes are taunting them from inside the window.
Some are asking whether they're being Zoots-ed.
One reader, who said she has been by the shop several times over the past two months has previously seen signs at Prospero's citing sickness or storms for being closed. She has called the police and reached out to the Chamber of Commerce to try to get answers, too. One local business told her no one had been in the shop for about a week.
Another reader said he dropped off shoes about a week ago, and when he went to pick them up he found the shop closed and ran into other customers wondering what was going on as well. "I can see my shoes in the window," he writes.
Have any of you heard what's going on? (theswellesleyreport@gmail.com)