The MBTA says it has been looking closely at the Wellesley commuter rail stations, and the train system as a whole, to address accessibility barriers and map out a vision for prioritizing what steps it needs to take.
The T warns on its web pages for the three Wellesley commuter rail stations — Wellesley Square, Wellesley Hills and Wellesley Farms — that "significant accessibility barriers exist." As we discussed in our recent post on this topic ("What will it take for Wellesley commuter rail stations to become accessible?"), residents are looking to make their voices heard and the town says it will push to get changes made.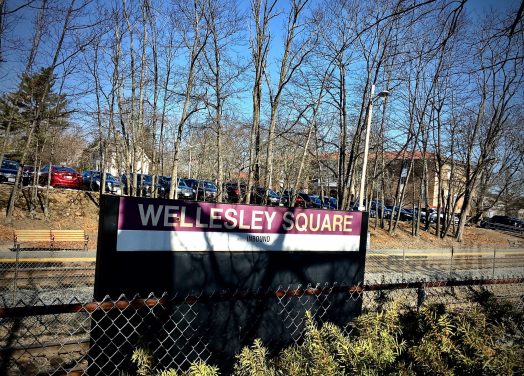 One strong possibility for the Wellesley Square station at least is if a redevelopment of the Tailby and Railroad parking lots sandwiching the station really does take place, then accessibility accommodations would be a part of the deal. Investment by Natick in a conceptual design plan has put its downtown commuter rail station on a fast tracker for improvements by the MBTA.
Spokesman Joe Pesaturo says the MBTA's Plan for Accessible Transit Infrastructure (PATI) is still in the early stages, but outlined the following efforts that could affect accessibility at Wellesley stations and beyond (Note: We bolded key items below):
​Staff developed conceptual designs for bringing accessibility to each of our inaccessible Commuter Rail stations.   To meet federal standards, the renovation at Wellesley Square Station would have to include two full-length 4-foot high platforms connected by a pedestrian walkway (via elevators and stairs).
The PATI external advisory committee has voiced support for prioritizing bus and subway improvements based on the fact that the subway and bus networks carry far more customers than commuter rail.
However, relative to other inaccessible Commuter Rail stations, Wellesley Square ranks in the top tier of stations that would benefit from access upgrades.
 A funding request for a full design of an accessible Wellesley  Square station was recently submitted for consideration in the MBTA's 2019-2023 Capital Investment Plan (CIP).  Projects are evaluated and scored based on a set of consistent project selection criteria, including impact on system preservation, cost effectiveness, social equity, economic impact, safety, mobility, environment and health effects, and policy support.  The final project prioritization is underway, and the draft FY19-23 CIP will be made public later in the spring.
Staff is beginning to discuss if a mobile lift would serve as an appropriate interim measure to provide a degree of access at the station, but it's important to note that the use of a mobile lift is not ideal (and feedback from a number of customers has not been favorable).
The MBTA did not share any specifics about the Hills and Farms stations.