All last year I'd drive by 13 West Central St. in Natick Center, certain the two-story historic brick building would blow down during the next big storm. The structure, now home to Buttercup, the area's newest farm-to-table restaurant, is pretty to look at today, but for a while there it was just sad, drab, and vulnerable. But then, rescue. The vacant former American Legion space was taken down down to the studs by developer Stonegate Group. The facade was then preserved as a condition of development of the historically and culturally significant property per the Natick Zoning Board, with input from both the Natick and Massachusetts Historical Commissions.
What's significant there now is food, wine, a buzzing patio scene, and a jam-packed reservations calendar for the 100-seat foodie haven. The site is also home to several other businesses, and there are 11 one- and two-bedroom residential units on the top floor. But the big, sparkly news is the addition to the downtown Natick scene of what may be that area's first truly destination restaurant.
It's a good thing I made Friday night reservations, because it was immediately apparent that there was no way I could have just wandered my way into the farm-to-table restaurant, which sources organic and local ingredients. Words have gotten out and those words are "plan ahead." The friendly front-desk staff member confirmed she was expecting us, and the hostess led me to our table without raising an eyebrow upon learning that my companion was "literally down the street parking the car." I ordered a Nantucket-brewed Sankaty Light lager from the server, who as it turned out was on his way the next day to that beautiful island, and perused the curated menu.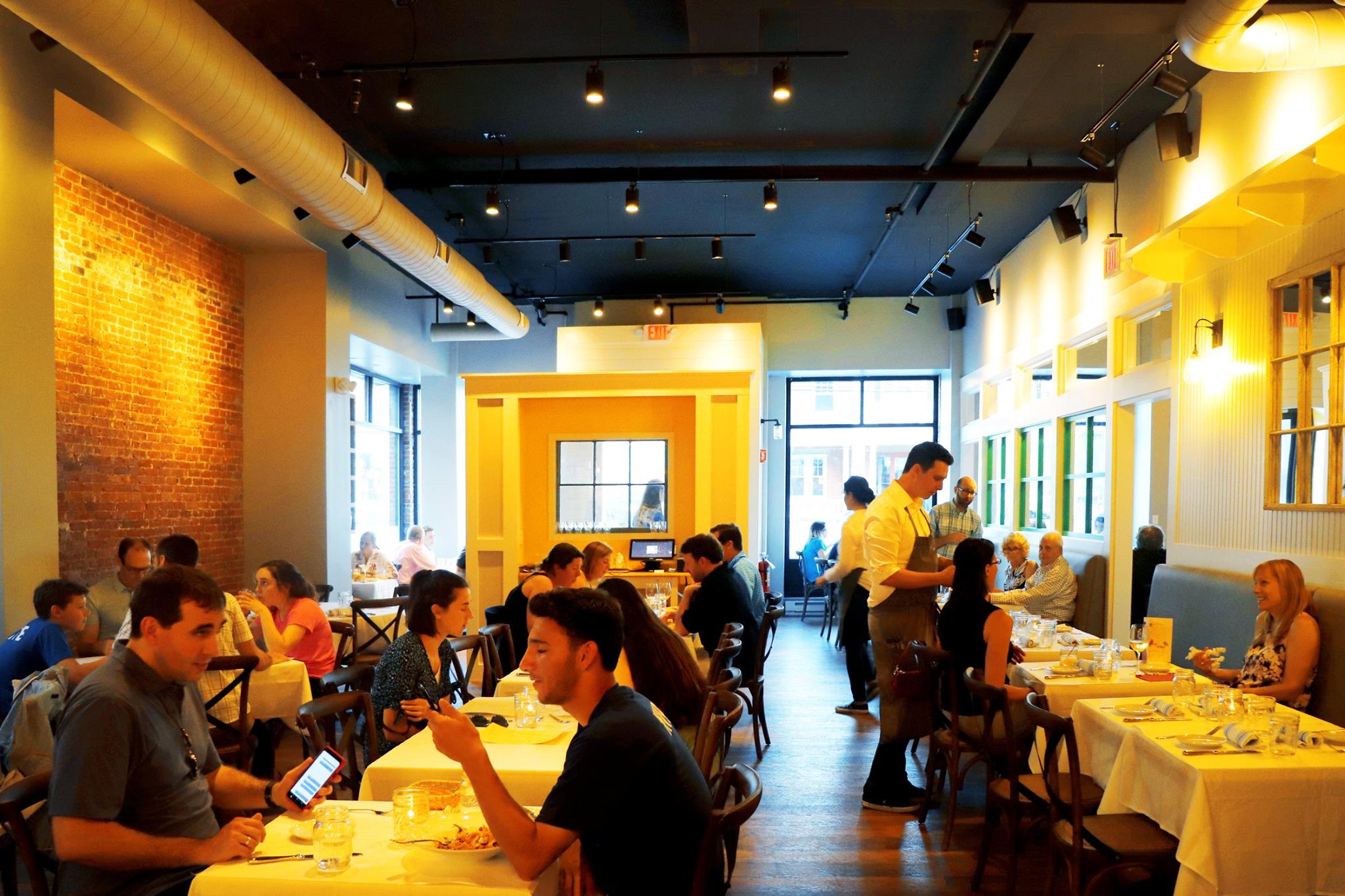 Husband and wife team Dora Tavel-Sanchez Luz and Gabriel Sanchez Luz, who also own The Farmhouse in Needham, put together quite the Kickstarter campaign to make that menu happen and get Buttercup up and running.
274 backers pledged $70,277 to help bring the couple's vision to life. According to their campaign, the money raised went "…towards architectural renovations and fulfilling the aesthetic charm we believe will complement the guest experience." Top priorities: antique light fixtures and chandeliers and restored barn boards to construct an open kitchen, eating counter, and entryway. The effect is welcoming and casual, like you've been invited to a meal at your Community Supported Agriculture (CSA) farm share barn, if the CSA farmers weren't too busy to cook for you too, after picking and sorting your fresh produce every week.
The owners source their ingredients from nearby places such as the Natick Organic Community Farm, Little Leaf Farms in Massachusetts, and Brookford Farm in New Hampshire. "Right now a lot of our lettuces are from Brookford," says Dora. The local soil closest to their hearts, however, is Sunwashed Farm in Framingham, their own personal half-acre spread where Gabriel can ask Dora to try and grow a certain kind of pepper, or purple basil, or other things that are hard to find in the mainstream.
But before all the local sourcing and the antique this and the reclaimed that, the couple gained experience working in hot spots from LA to Boston for over 20 years. Let's just say there was a lot of dishwashing and many, many long shifts and late nights before they became co-owners and architects of their own dream. They still pull long hours, the restaurant business being what it is, but how sweet the buttercups smell when you grow them yourself.
The menu starts off with about half a dozen appetizer choices including buttercup salad with radishes, cucumbers, tomatoes, and champagne vinaigrette; a cheese board; and of course, kale. If you're a regular reader you know I wouldn't dare send you to a restaurant without that curly green, former deli-case decoration turned It Girl/debutante of the year/big man on campus, and probably couldn't even if I tried.
I left that app alone, because you know how I am about kale, and instead ordered the crabmeat and avocado toast. It arrived with great promise and wasn't without great merit. The thick bread was perfectly toasted, the crabmeat sweet  and the avocado plentiful, but not unwieldy. I had a big quibble, though, with the tomatoes. Two generous slices took a center stage they didn't deserve, right atop the appetizer. One slice was mealy with an unappealing bite of core in its center. The other slice glistened like August but tasted like supermarket. I wondered why the toast wasn't topped with something more seasonal like garlic scapes or radishes, because the tomatoes just couldn't handle the scrutiny that, face it, they're going to get at a place like this. I'd rather have waited for the sun-ripened, just-picked tomato goodness that will surely come later this summer out of Sunwashed Farm.
My companion tried out the chilled citrus-avocado soup, which she said was bright and light. The firmness of the avocado chunks ensured that they would stand up in the broth, yet they were soft and flavorful, signaling ripeness. The citrus came through in a clear but not overpowering way, lending a sunshiny feel to the experience.
From there, I just went for it and ordered the most expensive entree on the menu, Maine halibut, Yukon potato, fennel, peas, pepper lemon cooked with white wine ($30). Loved everything about it, the plentiful portion size, the creaminess of the Yukon golds, and the pure spring-time pop of the fennel and the peas. This was the entree that most beckoned "spring!" to me, and made good on its promise. My companion's fish tacos arrived at the table beautifully presented with pico de gallo and chipotle aioli. She expressed surprise that the fish was deep fried, but got over that once she tasted it, and happily kept going. Some other entrees on the menu: vegetarian risotto with spring vegetables and parmigiano; beef short ribs with mashed potato and baby spinach; and chicken with haricots verts, mashed potato, baby carrots, and lemon.
Of course we had dessert, and there was only one option that night, so the choosing was easy. A Tres Leche came to us with a bottom layer of light and custardy creme anglais topped with a caramel sauce, beautiful and sweet, just like our evening at Buttercup. We polished it off and headed outside through the patio area, crowded with hearty souls who didn't mind eating dinner outside in 67 degree temperatures. When the restaurant is as hot as Buttercup is right now, the location of the table you sit at hardly matters. It's what comes to the table via the farm plus the bistro energy of the place that really makes the evening special.
Buttercup
13 W Central St, Natick, MA. 01760
To book a table, 508-975-4157‬ or 508-545-1506‬
Hours: Tuesday – Saturday, 4:30pm – 10pm (dinner only)
They have a nice, welcoming kids menu.
Also a full bar, which helps when the kids get antsy.