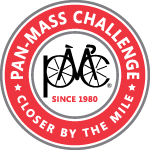 Get ready to make way as hundreds of cyclists this weekend whiz through Wellesley during the August 4 – 5  Pan-Mass Challenge cycling event. The 39th annual fundraiser attracts thousands of riders every year who train for months and tirelessly fundraise to support the fight against cancer in kids and adults. The goal is to raise millions for cancer research and treatment for the Dana Farber Cancer Institute and the Jimmy Fund.
Many of the riders will start and finish at Babson College. Over 6,200 cyclists — 125 of them from Wellesley — are expected to participate. Cyclists select from six two-day routes that range from 132 to 192 miles and six one-day rides that range from 25 to 110 miles and are required to raise between $600 and $8,000 to ride in the PMC, depending on the chosen route. The average cyclist raises $7,000.
Here are a few of their stories:
MassHort president just keeps on growing
Katherine Macdonald, President of the Massachusetts Horticultural Society, is a 12-year rider and her husband Kevin is an 11-year rider. They're on Team Deb, named for Kathy's sister-in-law who died of brain cancer in 2007, leaving 4 children under 12. She says, "Our team is 38 strong this year, and last year we reached the cumulative $1 million raised. While Debbie didn't survive, the need and meaning to ride is more pronounced each year. I just found out my older brother has prostrate cancer, while my younger brother is cleared of his cancer."
To prepare for the ride, the Macdonalds train around 800 miles. On the big day she says, "We do the 2-day ride to P-town and then remain on the Cape at our Cape house for vacation. ( how many people ride 165 miles on bike to vacation!) The amount we need to raise keeps going up (4,900 this year)…but this ride is about hope. And we pedal on.
Here's a link to Macdonald's donations page.
Third-year rider, cancer survivor Bonnie Carson DiMatteo
Bonnie Carson DiMatteo is a third-year rider and says the difference between the first and second years was her confidence level. The PMC group of staff and volunteers, "…is a special family: we know we are dedicated; persistent and have a higher purpose and that joins us. Wherever we are riding when we see each other we give the thumbs up.  'See you in August.' We tell each other. The training regiment that I kept was a balance between biking; yoga; pilates and walking."
"My favorite part of the Route is around Lakeville where people carry life-size posters of children who are courageously battling cancer.  And of course reaching Day-One finish in Bourne where my family and team are cheering is an absolute high."
DiMatteo credits her current ability to do all that she can do now to a local team that got her through her own cancer diagnosis and subsequent treatment.  "I was not treated at the Farber. However, somehow the DFC is always there through their incredible research and treatment guiding the hearts minds and hands of the doctors to diagnose and treat."
And like a true believer, DiMatteo encourages others to join right in. "There are so many ways to be involved in this amazing initiative. People may not feel they are ready to ride the one- or two-day trail. But volunteering, donating, celebrating with the PMC is open for anyone. As Henry Ford once said  "Whether you think you can or you think you can't — you're right."  I am glad I thought I could and that is the options for all. I hope more people will be inspired to think they can and  make a difference through this amazing initiative."
Here's a link to DiMatteo's donations page.
Carie Capossela — Young and Strong
Carie Capossela was diagnosed with breast cancer 17 years ago as a young mom with a one- and three-year old. Her oncologist Eric Winer (also a  Wellesley resident at that time) was training to ride the PMC and suggested that she do it.
"I told him perhaps I'd wait until my hair grew back and I was finished with chemo! When I hit my five year survival mark in 2006  I committed to riding – having not ridden a bike in many, many years. Her husband Rob joined in, as well as her sister Paige Capossela, who had lived with the family to help take care of the kids during Capossela's treatment. In a bit of happenstance, while doing for her family, Paige met and later married Jesse Green. Green's own mother died from breast cancer when he was a teenager.
Capossela is active with Dana Farber in Young and Strong, the program for young women with breast cancer at Dana Farber, which she co-founded with Adler in 2005. Under the direction of Dr. Ann Partridge, the program is one of the only programs in the country specifically focused on younger women, and Dr. Partridge is nationally recognized as a leading expert in younger women with breast cancer. Through the program, Capossela serves as an advocate, mentor, and support system for other women diagnosed with breast cancer.
"We have ridden since 2006 under the team named Carie's crew," she says. "This year will be our 13th PMC and we have raised more than $600k in that time in support of Dana Farber and the program for young women." And what a crew it is. The team has  grown to include family and friends, and Capossela trains with a bunch of Wellesley women including WBZ TV's Lisa Hughes, Lori Johnston, Nancy Williamson , Nancy Saperstone, Laura Olton, and Wendy Fischman. "A highlight for me was when our son, Brennan Adler (now 20) rode alongside me in 2014 – he was only 3 when I had my cancer,"  she says.
Here's a link to Caposella's donation page.
Where the money goes
The PMC donates 100 percent of every rider-raised dollar directly to Dana-Farber through the its fundraising arm, the Jimmy Fund, and is the institute's largest single contributor, raising more than 53 percent of the Jimmy Fund's annual revenue. In 2017, the PMC gave a record gift of $51 million to Dana-Farber, bringing it's 38-year contribution to a total of more than $598 million since its inception in 1980.
There are three starting lines: in Sturbridge, in Wellesley at Babson College,  and in Bourne, and five finish lines: in Provincetown (2), Bourne, Wellesley at Babson College and Foxboro.
To make a financial contribution to a rider from your town or become a virtual rider, visit www.pmc.org, or call (800) WE-CYCLE.
Wellesley route details
The event has a long history of great weather, so let's keep our fingers crossed that history repeats itself, and may the wind be at the backs of all the riders, and their gear changes all be smooth, and their tires remain inflated.
Good luck to the following Wellesley cyclists:
Robert Adler
Laurel Archibald
Kate Badertscher
Michael Baltrus
Ashley Bernon
Kyle Bettigole
Moe Blaustein
Jesse Boehm
Michael Brennan
Grant Brown
Michael Brown
Carie Capossela
Daniel Carbonneau
Bill Carrigan
Riley Casey
Edward Chazen
Karl Cheng
Kevin Clark
Mark Coffey
Jarrett Collins
Matt Comella
Kit Cunningham
James DeCaprio
Bonni DiMatteo
Gary Duvall
Paul Enderle
Thomas Engels
Timothy Ernst
Wendy Fischman
Suzanne Fontaine
Kostas Fotiadis
Andrew Friendly
Kelly Friendly
Peter Goemaat
Thomas Goemaat
John Goldberg
Eunice Groark
Barbara Gross
Karen Haddock
Wendy Haering
Christopher Harding
Taylor Hart
Craig Hartigan
Susan Hartigan
Mark Hill
Fred Hoff
Lisa Hughes
Justin Hupp
Emily Ix
Robbie Ix
Robert Ix
Rina Jha
Sara Johnson
Hugh Johnston
Lori Johnston
Alli Jones
Catie Jones
Durham Jones
Ken Jones
McKenzie Jones
Brian Kinney
Daniel Kopin
Jason Kropp
Enrique Laso
Paul Laviolette
Stephen Leonard
Susan Levine
Jennifer Ligibel
Katherine Macdonald
Kevin Macdonald
Patricia Mallett
Bill Maynard
Elizabeth McClintock
Sean Milano
Peter Monsen
Gerard Mulrooney
Francis Nemia
Matthew Nemia
Adam Newman
Michael Noto
Chris O'Connell
John O'Connell
Laura Olton
Ian ONeal
John Power
Michael Prakken
Sue Prakken
Patti Quigley
Roger Randall
William Rieders
Kate Roosevelt
Grant Rosen
Rob Rosen
Emily Saperstone
Nancy Saperstone
Peter Saperstone
Eric Scharmer
Andrew Schiller
Elliot Silver
Jackson Smith
Madeleine Smith
Robert Smith
Ryan Smith
Lawrence Specht
Billy Starr
Sophia Starr
Daniel Sullivan
Tucker Swan
Jonathan Teplow
Walter Tsui
Angelique Tung
Andrew Wagner
Susan Westmoreland
Walter Wickersham
Jeff Wickham
Lee Wickham
Sam Wickham
Al Wiegman
Andrew Wigren
Laura Wilkins
Kirk Williamson
Nancy Williamson
Tom Wynn
Tricia Wynn
Michael Young