The 28th Woods Hole Film Festival, running through Saturday, August 3, presents 170 independent films from around the world in the fun village of Woods Hole, and Falmouth. The festival came to our attention because of a Wellesley connection, of course. The feature-length film Path of the Daff, a documentary about the unshakeable Boston spirit after the 2013 Marathon bombing, made its world premier in the historic Woods Hole Firehouse. We were told that Wellesley had a cameo appearance in the movie. Were we interested in catching the film about hope and inspiration after the devastation of the 2013 events? asked organizers. Of course we were.
Path of the Daff in part covers the events that occurred on April 15, 2013. On that day, the Boylston Street finish line of the Boston Marathon was transformed by two bombs from a place of joy to a place of terror. Two homemade pressure cooker bombs detonated 12 seconds and 210 yards apart at 2:49pm, near the finish line of the race, killing three people and injuring several hundred others, including 16 who lost limbs.
After tragedy, there are always certain people who look around and figure out how to bring positivity. Charlestown resident and urban horticulturalist Diane Valle is one of those people. She had a vision of hope and rebirth for the Boston, and that vision included daffodils. Her goal: to line the Boston Marathon route with a sea of daffodils that would bloom for Marathon Day and symbolize that idea of hope. I spoke to her at the festival and Valle said, "This movie and the daffodils are all about hope and looking forward. I think the world is a better place with flowers in it."
In under six months, Valle found a way to source tens of thousands of daffodil bulbs in time to get them in the ground in Fall 2013 so that they would be in bloom for the Spring 2014 Marathon. When I heard about the project, I got in touch with Valle and asked if she needed a couple of garden clubs in Wellesley to help with the efforts. That fall, between the efforts of the Town of Wellesley, the Wellesley Gardeners' Guild, the Hills Garden Club of Wellesley, the Massachusetts Horticultural Society, and many others, thousands of bulbs were planted in Wellesley.
Valle got in touch with other garden clubs in the towns along the Marathon route to plant daffodils, and all answered the call to send a message of resilience and strength. The film focuses on the efforts in Boston, where volunteers place thousands of the cheerful yellow flowers in pots labeled "Boston Strong" all over the Copley Square area. The movie traces the path of the bulbs from Holland to Boston, and all the teamwork it takes to make the simple message of hope happen. The movie was created and financed as a labor of love by executive producer Matthew Piscitelli and his brother and director Michael Piscitelli. They own Olson's Greenhouses in Raynam, MA, where the daffs are delivered and are processed after their trip from the Netherlands.
Matthew was on hand at the Woods Hole premier. "We do it not for any money. We don't get money for this. Any donations go to charities such as A Leg Forever. We do it because we love Boston and the Boston Marathon."
Shout-out to Noelle Kaelblein, whose running progress in the film, including through Wellesley (our cameo appearance!) , was charted during her first marathon ever. Her efforts raised major funds for A Leg Forever, a charity established by Elizabeth Norden in honor of her two sons JP and Paul Norden, who each lost a leg in the Boston Marathon bombings. The foundation's mission is to pay it forward and assist other amputees in their time of need just as JP and Paul were helped with overwhelming support following the marathon bombings.
There's still time to attend the Woods Hole Film Festival
My co-editor Bob Brown and I had a great time in the busy village well known for its ferry service to Martha's Vineyard and as the ending point of the Shining Sea Bike Path. As a sandwich board in front of one of the restaurants says, "Woods Hole is ferry, ferry fun." While in the village, we caught six full-length films, five shorts, and wandered in and out of shops and restaurants. It was a great way to spend a summer weekend.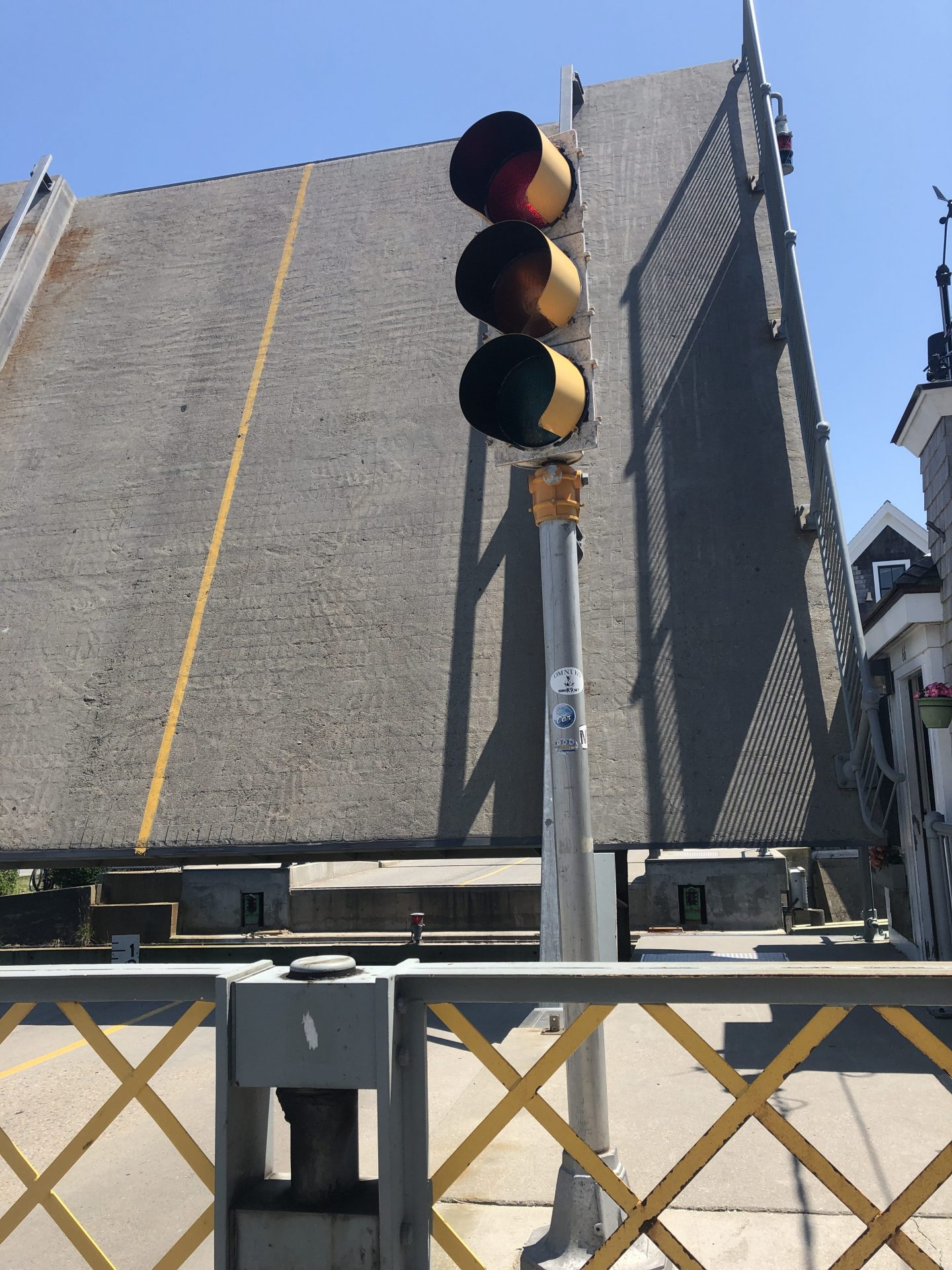 We had dinner our first night at Landfall Restaurant (2 Luscombe Ave.), where we downed oysters at a waterfront table. Attached to the back of the restaurant was a small deck where boaters backed up, tied up their crafts, and piled out to relax on wooden benches with a drink or two. It was a fun summer party atmosphere from stem to stern at Landfall.
The next night we tried out Shuckers (91A Water St.) which was still going strong at 9pm when we showed up for dinner. Once again, we scored a waterfront table, this time on Eel's Pond. A band had the crowd singing along, and everyone was loud and cheerful. The fish sandwich and the Caesar Salad with shrimp were big hits with us. Also on the menu: raw bar, crab cakes, fried whole belly clams, steamed lobster, and more.
Thanks to Woods Hole Oceanographic Institute
Most of the films are shown in Woods Hole Oceanographic Institution lecture halls, and it was cool to have the opportunity to go into those buildings. Best of all we enjoyed the films in air conditioned comfort, and the lecture hall style seating meant no obstructed views and cushy seating.
We saw six movies and multiple shorts at the festival. Here are reviews of some of our favorites — Pizza, A Love Story (New Haven pizza finally gets its due); Nose to Tail (a really hard day in the life of a high-end chef); and Float (F1D flying machines, competition).
The fun is far from over. Also below, an update on encore screenings on films that sold out and info about the awards ceremony at Captain Kidd
Restaurant featuring music by singer-songwriter Sam Woolf, who finished in American Idol's top five in 2014.
Pizza, a Love Story
Why we loved it: reinforcement of personal biases
In the world of pizza, you should either go New Haven, Connecticut or go home. Face it, if the pizza hasn't been oven-fired in Wooster Square — specifically Frank Pepe's Pizzeria or Sally's Apizza, both on Wooster Street, or Modern Apizza on State Street — that pie isn't worth the calories or the time it takes to chew. Writer and director Gorman Bechard agrees in the feature-length film Pizza, a Love Story, an unabashed celebration of America's favorite food, when it's done right.
Let's get this out of the way from the get-go. I'm a Modern girl. Always have been. Pepe's and Sally's may have been in New Haven's historical Italian immigrant enclave first, but Modern is my go-to for a mozzarella pie with bacon, served up piping hot with a thin, charred crust. Do not call the crust burnt. That's lesson number one for enjoying New Haven pizza properly. The film takes you through about a half-dozen more rules, but like Modern Apizza owner Bill Pustari says, "It's New Haven pizza. It's not burnt. It's charred. That's all you need to know."
Celebrities and area big-wigs are called on to extol the virtues of New Haven pizza: actor Henry Winkler; singer-songwriter Lyle Lovett; crooner Michael Bolton; politicians; Italian guys from the old neighborhood; Polish women who know to call it "apizz" not pizza, all get their chance to set the world straight on the importance of New Haven pizza.
The film gets a little repetitive at times, and there's over-reliance on some of the same talking heads. Overall, however, it is an important film of staggering genius that needed to be made. New Haven pizza finally gets its due.
Mrs. Swellesley's first date, Wooster Square, New Haven, circa last century: We didn't set out for any of the Holy Trinity (Pepe's, Sally's, Modern) — what if we ran out of things to say during the hour-long line that was sure to greet us? Instead, we went to a deeply local secret, the recently shuttered (after 53 years…sob!) Tony & Lucille's. It's said that although pizza wasn't invented in New Haven, Tony and Lucille invented the calzone, that half-moon of pizza stuffed with ricotta, covered with tomato sauce and a sprinkling of parmesan.
It was my first date, my first calzone, and my first glass of wine away from the family table. We were very young, but carding wasn't such a big deal back then in Wooster Square. It was considered more important that a young lady and her responsible-looking young man learn how to enjoy a good meal out properly. That included a small glass of the house chianti for each of us.
Mangia, you two love-birds.
Category: Documentary Feature
Director: Gorman Bechard, USA
Nose to Tail
Why we loved it: who doesn't love to watch a tortured artist implode?
"Yes Chef, Yes Chef, Yes Chef," is the chorus in Chef Dan's kitchen. It is his domain, a place where his authority is unquestioned. Only in the kitchen can Dan forget that he's four months behind in the rent and his unpaid vendors are starting to refuse to deliver the top-quality ingredients he must source to remain relevant.
Nose to Tail, written and directed by Jesse Zigelstein, takes us through a day in the life of Chef Dan, played by Aaron Abrams with bombastic intensity and narcissism. In culinary circles, "nose to tail" is the philosophy of eating and cooking that involves using every possible part of an animal. In a perfect world, Daniel would like to be exclusively about the practice of that ideal. One of the few times we see him at peace is when he is taking apart a young pig delivered whole. As he slices through the animal with a perfectly sharpened knife, Daniel gets into a rhythm. His shoulders relax, and he seems to enter a zen-like state. In this moment we see Daniel immersed in his true calling, caught up in the here and now of his art. This doesn't last long.
It doesn't last long because Daniel doesn't operate in anything close to a perfect world. Daniel operates in a world that is flawed, aggravating, unpredictable, disrespectful, and ungrateful, just like him. This world is largely of his own making. He alienates his sous-chef straight into another job and treats his love interest (played with emerging self-esteem by Lara Jean Chorostecki) with callous disregard. Daniel gives to the unworthy when he wines and dines a rich high school friend who he hopes will be his financial savior. That's a no-go. "I'm not going to be your patron. I'm not a Medici," says the financially successful old pal. Dan then withholds himself from the truly worthy when his ex-wife shows up to drop off their young son for his scheduled visit with dad. Dan has forgotten, of course, and pleads with his ex (played by Carolina Bartczak with ever-so-chic style and the sexiest French accent) to let him off the hook on this visitation thing. Again. "Have mercy," he begs. "Mercy? He's not a punishment, he's your son," she shoots back.
Meanwhile, the food truck parked across the street is absolutely killing it. First Daniel disparages the whole idea of food trucks.  Then he goes ballistic and tries to bully the owner, a talented entrepreneur and cook in his own right, off the playground. Someone ends up in the gutter, and the altercation is all caught on multiple cell phone videos, of course.
Dan has a terrible, horrible, no good, very bad day, from nose to tail. Every possible part of him has been used up. He's done. And so is the restaurant.
Just wondering about that prescription pill bottle, the one Dan started his day with, dipped into often, and held in his hand at the end of the movie. Like his high school buddy who's not a Medici noted, financially something about the business just didn't make sense. Even a casual movie-goer can note a few things: first, we're told the restaurant is fully booked night after night. So that's a lot of money coming in.
Next, we know Daniel isn't paying his rent, and he isn't paying his vendors, and he isn't paying his child support, so that's a lot of money that isn't going out. The staff must be paid, sure. But still. There seems to be a huge chunk of change that is going unaccounted for. There's also the little matter of some missing inventory, as noted by his sommelier (with measured reserve by Salvatore Antonio, the sole person Dan respects).
Operating a high-end restaurant is expensive and will take over your entire life, no doubt. So will certain other daily habits.
Category: Narrative Feature
Director: Jesse Zigelstein, USA
Float
Why we loved it: We learned something new.
The Wright Brothers were obsessed with F1D indoor flying models. Romanian dictator Nicolae Ceaușescu (ousted and executed in 1989) was fascinated by the rubber-band powered balsa wood flyers with a wingspan of about 65 centimeters and weighing in at about one gram. During the Communist leader's 24-year rule he even made available a 400-foot deep salt mine to encourage worldwide interest and competition in F1D flying. In Float, you learn how champions win at an F1D flying competition: they keep the fragile and intricate models aloft longer than the other contenders. Elite competitors can do so for up to 40 minutes.
One thing these dudes — and yes, they're pretty much all dudes — want you to know is that F1D flying is a sport. Throughout the film, enthusiasts compare themselves to ballet dancers, bobsledders, Tour de France cyclists, endurance runners who push themselves 1,000 miles, nay, clear across the United States. Flyers really, really want F1D to be considered an athletic endeavor.
Whether flying F1Ds is a sport, as enthusiasts assert, or a "glorified hobby," as one flyer turned balsa woodworker calls it, the film-goer is left to decide.
Director/editor/writer Phil Kibbe deftly weaves together history, suspense, and a wealth of knowledge in what is clearly a labor of love for all participants. Who will take the trophy at the World Championships? The ambitious and young Brett Sanborn or newcomer Yuan Kang Lee? It gets pretty intense, with accusations that one of the Romanians is cheating, and high-stress flyer crashes.
Producer Ben Saks  is in his second decade with F1D and hopes to compete in the 2020 World Championships.
Category: Documentary Feature
Director: Phil Kibbe, USA, 2019
Running time: 81 minutes
The fun's not over — August 3rd events at the Woods Hole Film Festival
Encore screenings of films that sold out when they screened initially:
Runner: Worcester native Bill Gallagher's remarkable documentary about Guor Mading Maker, who ran away from his refugee camp in war-torn Sudan to seek safety in the US when he was only nine years old, ultimately settling in New Hampshire. There he participated in high school track and field, becoming a running sensation and qualifying for the 2012 Olympics. Ultimately, he decided to run under the Olympic flag, rather than betraying his people and running under the newly independent South Sudan flag It screens at 5:00 PM at Falmouth Academy's Simon Center located at 7 Highfield Drive in Falmouth.
WBCN and the American Revolution: directed by Bill Lichtenstein, uncovers the previously untold story of the early days of WBCN-FM—founded as a radical, underground radio station—set against the dazzling and profound social, political, and cultural changes that took place in Boston and nationally in the late-1960s and early-70s. It screens at 5:00 PM in Speck Auditorium at the Marine Biological Laboratory, located at 10 MBL Street in Woods Hole.
Safe Spaces: directed by Daniel Schechter (Life of Crime with Jennifer Aniston), stars Justin Long and Fran Drescher in a timely comedy about a New York professor who spends a week reconnecting with his family while defending his reputation over controversial behavior at his college. It screens at 7:30 PM in Speck Auditorium at the Marine Biological Laboratory, located at 10 MBL Street in Woods Hole.
Awards ceremony: Captain Kidd Restaurant beginning at 10:30 PM and featuring music by singer-songwriter Sam Woolf, who finished in American
Idol's top five in 2014.
Ticket holders are able to park for free at the Woods Hole Oceanographic Institution's lot on School Street after 5PM and at the NOAA Fisheries lot (next to the aquarium at 166 Water Street). Parking at meters in Woods Hole are free after 8 PM, and parking is free in the lot at Falmouth Academy. Paid parking is also available at several lots. Alternate transportation methods include biking on the Shining Sea Bikeway, which ends in Woods Hole, taking the Steamship Shuttle Bus from the Steamship lot in Falmouth, or by taking the WHOOSH Trolley from the Falmouth Mall (which will run extended late hours).
The festival is supported in part by grants from the Mass Cultural Council, Mass Festivals, Falmouth Fund of the Cape Cod Foundation and the Cape Cod 5 Cents Savings Bank Charitable Foundation in support of Bringing Science to the Screen, Martha's Vineyard Savings Bank, and Woods Hole Foundation. LANDVEST is the Presenting Sponsor. Additional sponsors include Falmouth Chamber of Commerce, innerglow yoga/Cape Cod Yoga School, Talamas, Tree House Lodge, and O'Malley-Keyes Fine Art Gallery.
For more information visit www.woodsholefilmfestival.org, Facebook, Twitter, or Instagram using #WHFF2019.