This past weekend's In Between Days festival was clearly an example of a music event on the rise. The Quincy-based music and arts extravaganza expanded this year from 1 day to 2, highlighted local, national, and international acts, and seemingly got the word out based on the big-but-not-suffocating crowds. As performer Cautious Clay—a sax- and flute-wielding multi-instrumentalist— put it on Sunday: "This is a very eclectic little festival."
Even with at least 4,000 attendees per day, In Between Days also is still new enough that it has the casual vibe larger events can no longer muster. Many of the performers could be seen checking out their peers' sets and interacting with fans. I went for the first time this year, and enjoyed the breathing room, and ample seating—benches, turf, stadium, under shade trees—that can be hard to find at more established festivals. With the 2 stages right next to each other, concert goers didn't need to break any step-counting records to make it back and forth between shows, of which there were a dozen each day, none overlapping.
Fans were on their game with creative and sparkly attire—some upgraded by visits to the on-site shops curated by Little City Thrifty Vintage Market and The Good Trade Makers Market. Uncle Sam, when he wasn't reattaching his goatee, handed out red, white, and blue balloons early on Saturday. Little kids scrambled around, hit up the vintage arcade tent, and threw rugby footballs through a hole at a carnival game set up by the New England Free Jacks major league rugby team that plays at the Veterans Memorial Stadium where In Between Days was held.
The crowd was friendly and enthusiastic. Slothrust's Leah Wellbaum marveled seemingly in surprise at this "respectful Massachusetts crowd," and warned later "Careful with that moshing—don't bump into anyone!" Not that attendees wouldn't have done it anyway, but they were regularly encouraged by performers to hydrate and be kind to each other as they listened to music and lined up for a variety of food and drink options. One thing I'd never seen at a festival—1 Million Strong brought a sober-supportive sanctuary to the grounds, offering non-alcoholic beverages and spreading swag throughout.
To the credit of the performers, we heard lots more "How you doin' Quincy" than "Hey Boston," indicating the artists were well aware of where they were. And on that note, we were actually able to hear most of the performers' comments, even most of the ramblings of Modest Mouse's Isaac Brock, thanks to a steady and clear sound system.
The inevitable Wellesley angle
We always seek out a Wellesley angle whenever we take it on the road, and sure enough, we found one thanks to Wellesley Hills cafe CrepeBerry
(We also learned after the event that Slothrust drummer Will Gorin is Wellesley born and bred.)
CrepeBerry owner Amelia Childs Schwartzman mentioned that former employee Haley Senft's band, shallow pools (yeah, arg, all lower case) was on the bill, so we connected with the band at the event before its well-received set of pop-with-a-message music on Saturday. Drummer Ali Ajemian said Senft would play shallow pools music whenever possible at CrepeBerry, allowing it to seep into the ears and brains of customers from Wellesley and elsewhere.
A special Swellesley hello from the band shallow pools at @InBtwnDaysFest from @shallowpoolsMA @CrepeBerryCafe pic.twitter.com/NSPQNzV5gZ

— swellesley (@swellesley) August 21, 2023
The 4-piece band, which says all of its members belong to the LGBTQ+ community and are advocates for inclusivity, debuted a couple of songs from their upcoming album, dubbed "I Think About It All the Time." I wasn't sure I wanted to know what "It" was, but they said it referred to many things that they obsess over and that were accentuated during the pandemic. The first single, "Nightmare," is straight-out dark, though guitarist Jess Gromada assured songs on the album "go from dark to hopeful."
Shallow pools lead singer Glynnis Brennan introduced the band on stage as being from Quincy, getting a rise from the crowd, which included plenty of locals, including Quincy first responders both on and off duty.
Shallow pools wasn't the only band representing the hometown: I chatted with Chris Conway, guitarist for the Gypsy Moths, who told me that 5 of the 6 band members got their high school degrees on the field where the festival took place. "It was wild to be here now for this," he said, referring to his band playing in the opening slot on Saturday.
Music from near and far
The local focus was big for In Between Days, which included other homegrown acts such as Dutch Tulips, Mint Green, and Paper Tigers, whose lead singer Michael Medlock celebrated his birthday at the show ("I'm 14 years old," he joked, but more seriously: "There's no place I'd rather be.").
The festival also drew performers from afar, including The Beths, all the way from Auckland, New Zealand (but not so far away that they don't know that words are spelled 1 way here and pronounced another, as guitarist Jonathan Pearce remarked). This hot band, which whipped through one piece of ear candy after another, might have won the merch competition judging by the number of t-shirts worn by fans. One of the more unusual scenes at the event was the pack of press photographers all wearing masks during The Beths' show—the indie rock band required us to wear them if we wanted to take photos from the pit (New Zealand just lifted the last of its COVID-19 restrictions).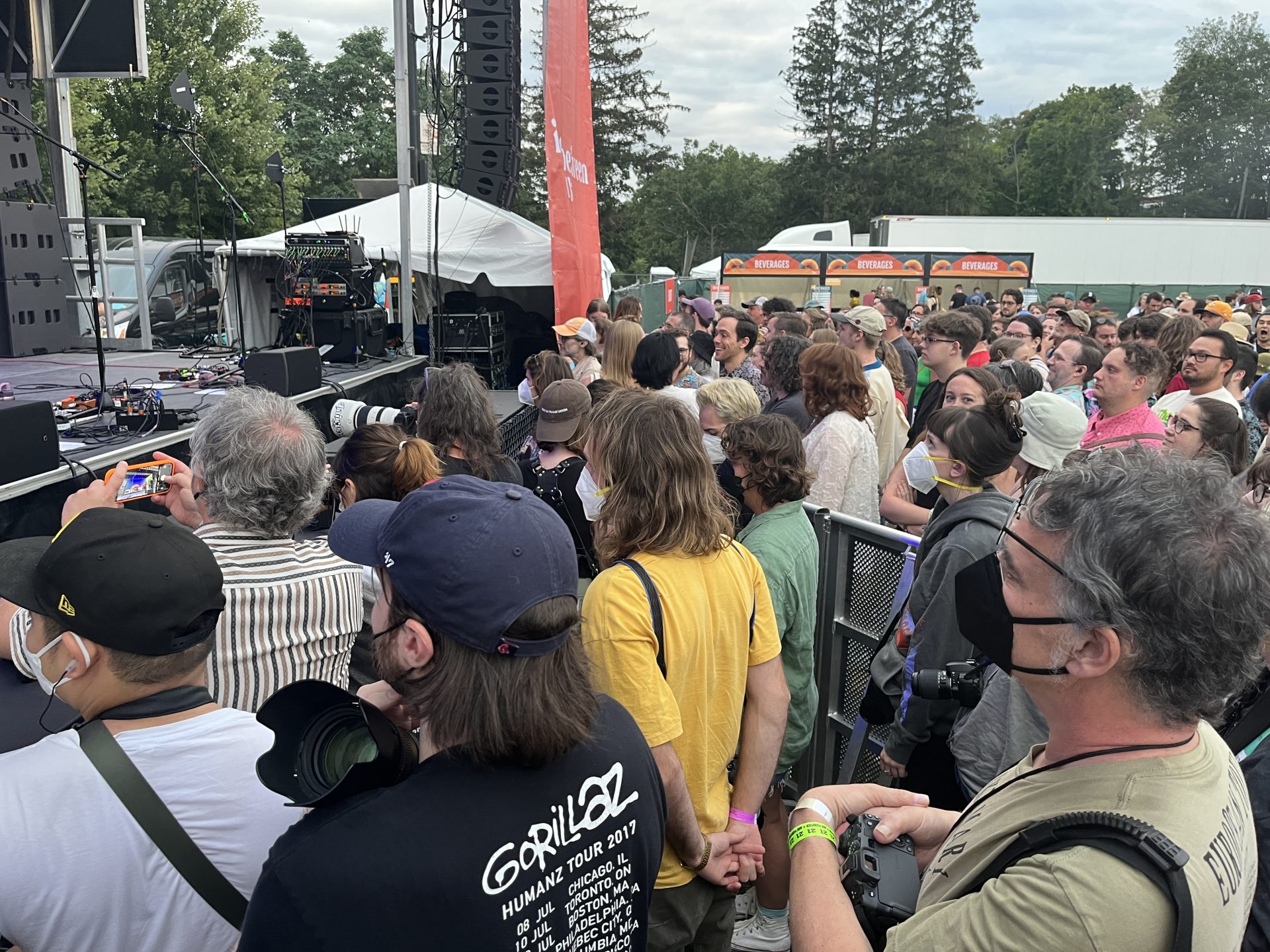 Geography-wise, In Between Days had Portland covered, too—Modest Mouse and Blitzen Trapper from Oregon's, and Weakened Friends from Maine.
The geographical expanse translated into musical diversity throughout the event, with indie rock, harder stuff, country/folk, Americana, and other genres on display. Banjos, flutes, fiddles, stand-up bass, and harmonicas meshed with the usual collection of drums, guitars, and keyboards, though of course any time you have Modest Mouse on the bill you're going to get a whole lot of stuff on stage. The indie rock icons banged out about 20 songs, old and new, keeping longtime and newer fans happy.
Fantastic Cat, a quirky supergroup of singer-songwriters out of New York, was among the other bands on Day 1 of the festival that brought a little bit of everything. This included at least three of their members taking the lead on vocals, and the debut of a tune with the chorus "I just keep on getting screwed." Veteran folk-rock band Blitzen Trapper captivated the crowd with the only a cappella number I caught at the event, and jammed out royally to finish their set.
Miko Marks injected country and Americana music into Sunday's mix, alternating between bringing the crowd "here" (rambunctious songs like "Ancestors") and "here" (poignant tunes like "Hard Times," with a nod to Mavis Staples). Marks performed not just for the many locals at the show, but for family members who attended, too. "The ancestors are in the building," she announced at the start.
Perhaps the event's most heroic performance came from Kat Wright, who said she woke up without a voice, so alternated with bandmate and guitarist Bob Wagner on vocals. Those of us close up could hear bassist Josh Weinstein urging the others to get going at the start ("They're ready for us"), as they made last-minute plans. Wright said this would preview how she'd sound at the age of 80, and promised that "I'm actually a good singer," encouraging fans to check out the trio in November when they trek back from Vermont for a show at City Winery in Boston.
Lord Huron, bathed in green and other smoky lights, ended the event with a set of soothing indie rock that lead singer and guitarist Ben Schneider jokingly referred to as their version of "The Eras Tour," with "not as many costume changes," but with all the emotions. Phantogram served up an electronica palette cleanser in between Trampled by Turtles and Lord Huron, with Sarah Barthel swirling about the stage mainly on vocals, as Josh Guitar led with guitar.
One festival highlight is always cross-pollination among bands, and In Between Days kept this tradition going. Bassist Annie Hoffman doubled up on Saturday with Weakened Friends, her usual gig, and also with Slothrust. Early Sunday performer Allison Ponthier made a quick change out of her dancing duds after watching the Phantogram show among the rest of the crowd, then wound up on stage with Lord Huron singing "The Night We Met."
Then there were also bands there in spirit, represented by covers played by those actually at In Between Days. Mint Green shared its rendition of Radiohead's "Creep," and Slothrust dug into Britney Spears' "Baby One More Time."
Radiohead also made its presence felt when Adrian Galvin, who performs as Yoke Lore, turned Trampled by Turtles' side-by-side-by-side-by-side-by-side-by-side sextet into a septet Sunday armed with his banjo for a rendition of "Fake Plastic Trees." The Duluth bluegrass-plus band earlier in the set had members of the crowd locking arms and spinning in circles, fueled by Ryan Young's extreme fiddling.
Chatting up Yoke Lore
Shortly before that set, I sat down with Yoke Lore's Galvin at a picnic table in the artists' village to talk about the banjo and his upcoming album, Toward A Never Ending New Beginning. I broke the ice by noting that my paternal grandfather was a banjoist who had his own bands back in the 1940s, and also learned that Galvin has visited Wellesley College, in relentlessly pressing for my local angle.
I'd been listening to Yoke Lore that morning while mowing our lawn, leading me to ask Galvin if he thinks much about how people hear his music. "I kind of think of it, but I want people to make it their own and use the music to make their lives better in any way they can." Hey, it helped me get through that chore before hitting the festival, so mission accomplished.
In starting Yoke Lore, Galvin was looking to do something with an instrument beyond the usual guitars and drums. "The banjo's such a great instrument. It's really specifically American in some wonderful ways, and because of that, you tend to mainly see it played by guys in suspenders and bluegrass bands. With the guitar, people play it behind their back and in all kinds of weird ways, and nobody's done anything like that with the banjo… it makes a really cool sound and I want to find more ways to manipulate it." Galvin has done that, rocking, spinning, and jumping with it like he's wielding a guitar, and in Yoke Lore, backed by drums and electronic beats. He regretted missing Modest Mouse the night before, which started its show with lead singer Isaac Brock ripping into his banjo on "King Rat."
Yoke Lore's new album debuts in a month, and they played songs from it, such as "Hallucinate" and Winona," at the show. Galvin says the album is inspired by the I Ching. "I kind of want this album to be my little book of change," he said. "I hope people use these songs as orientation tools to figure out where they are and what the hell they're supposed to do."
Songwriting serves as Galvin's therapeutic process, he said.
"Art making forces a sort of self-involvement, for lack of a better term," the Los Angeles-based artist said. "It forces you into your head in a lot of wonderful ways but also it can be somewhat detrimental."
I thanked Galvin for appearing at the festival, noting that I likely wouldn't have come across his band if he hadn't. One thing for sure is that Galvin's live performance is way more charged up than you'd expect from listening to his sweet voice and lush production on recordings. My favorite thing about festivals like this with a good mix of acts is that you can discover new performers and rediscover genres that you never knew you might actually now like.
 

View this post on Instagram

 
Thanks to Michael Marotta & the entire In Between Days festival team for their support.
More photos below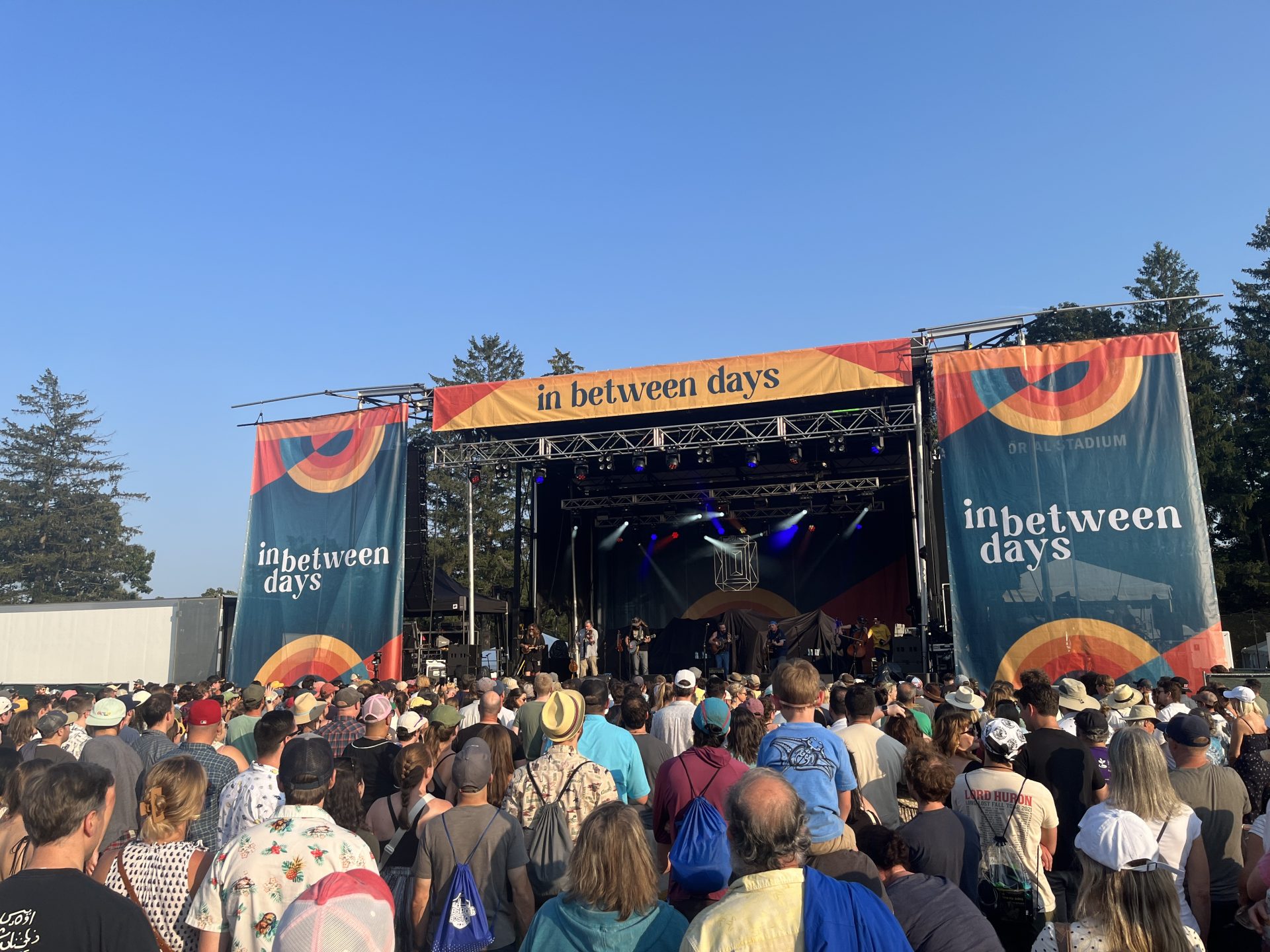 ---
Invite us to cover your music festival: theswellesleyreport@gmail.com
---
Recent "beyond Wellesley" music coverage: