The Wellesley Choral Society was founded over 70 years ago, in 1947. Currently the Society has approximately 55 members. The purpose of the Society is to study and perform the world's great sacred and secular choral music.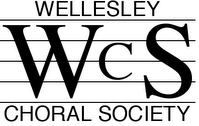 Five things to know about the Wellesley Choral Society:
The Society rehears on Mondays, 7:30pm – 9:30pm, September through May.
Singers of high school age and older are welcome. Tenors and basses always needed.
The Society's conductor is Edward Whalen. Whalen is a graduate of the New England Conservatory of Music and the University of Rhode Island. He is the director of the Upper School choruses at Milton Academy.
Pianist Hisako Hiratsuka has been the Society's accompanist since 1993. She is a graduate of the Tokyo University of Arts and Music. She teaches at Tufts University.
The Society receives major support from the Massachusetts Cultural Council and the Wellesley Cultural Council.