Wellesley College, the high-ranking all-women's college located in the heart of Wellesley, Mass., was founded in 1870 and began admitting students in 1875. 18 students graduated from that class in 1879, but now 500+ graduate each year.
The liberal arts school was founded by Henry and Pauline Durant, who were passionate about the higher education of women, according to the college. Notable Wellesley College alumnae have included Hilary Rodham Clinton, Madeleine Albright and Cokie Roberts.
Wellesley College regularly ranks among the top liberal arts schools in the United States, with majors ranging from Africana Studies to Chemistry and from Biology to Women's and Gender Studies. About 1 in 5 students are accepted, making the school quite selective. Once they're in, they can expect to pay more than $50,000 for tuition and fees.
The town of Wellesley is fortunate to have the college as a public resource even though the school is private. The beautiful grounds of the campus, highlighted by traditional brick and stone buildings as well as more modern ones, plus plenty of outdoor art. are popular place for residents to walk, run and boat.
People come from all around to walk around Lake Waban to view the topiary garden and more.
Wellesley College also opens its 500-acre campus to the public for educational and cultural events throughout the year. This includes the Davis Museum, Newhouse lectures, concerts, public nights at the Whitin Observatory (telescopes), theatre, Canines & Cocktails and outdoor summer movies.
And who can forget the notorious Tony Matelli Sleepwalker sculpture of a guy in his tighty-whiteys that triggered some and attracted others for selfies?
Then there are those quirky Wellesley College traditions, such as hooprolling and sledding down Severance Hill on cafeteria trays.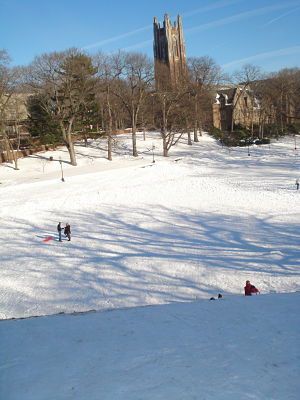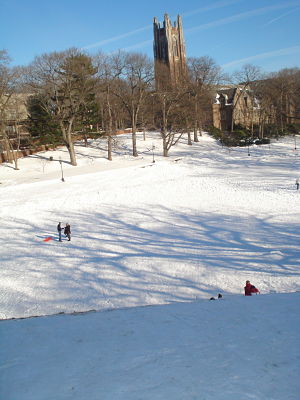 With a multibillion dollar endowment, Wellesley College holds onto its traditions but continues to modernize to prepare its students for the modern and future workforces.
More Wellesley College posts and resources:
Wellesley College lays down the bylaws on dogs
Barbara Bush's Wellesley College commencement address to be published as a stand-alone book
This teen is REALLY excited about coming to Wellesley