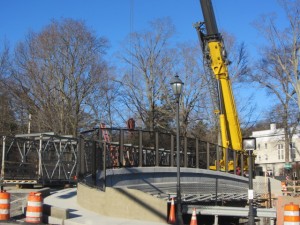 The Rockland Street bridge, under reconstruction since early last year, is set to re-open on Saturday morning, according to Wellesley Police Lt. Jack Pilecki.
The bridge re-opening has had a handful of false starts, with the most recent delays caused by a needed gas main fix by National Grid and then some inclement weather.
But if all goes right, soon those on the right side of the tracks will be able to easily cross to the wrong side, and vice-versa.
The project, initially slated to cost about $1.6M, is now estimated to cost $2.3M due to various changes in plans, including redesign of bridge abutments.
Rest assured the bridge drama won't entirely end Saturday: Neighbors attended the Board of Selectmen meeting earlier this week to raise concerns about the bridge's pedestrian walkway and visibility at the Rockland Street/Linden Street intersection.