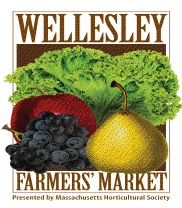 The Wellesley Farmers' Market is back beginning on Thursday, May 9th from 2-6pm in the Whole Foods Market parking lot off Washington Street and will feature a new mix of local fruit/vegetable vendors as well as an on-line ordering system and delivery options.
A community celebration will take place at the market the following Thursday, with live music from the LINX Singers and Wellesley High School Jazz Band at 5pm.
Among the Farmers' Market vendors are Carlson Orchards, Dover Farm, Golden Rule Honey and  On the Edge Knife Sharpening.
You can also purchase produce via an online system. Before market day, on-line vendors will list their freshest items, so simply sign up at www.yourfarmstand.com and pull down the Wellesley market when placing your order. Pick up your order at the market before 6pm or have it delivered for a $5 fee.
Volunteer opportunities are available at the market, which runs until Oct. 17,  as well. Contact John Spencer at 617-680-0012 for more info.
The Wellesley Farmers' Market is run as a project of the Massachusetts Horticultural Society, with Town volunteers on the Steering Committee.
On a related note, The Food Project, a local non-profit organization in Lincoln, Mass., has expanded its summer Community Supported Agriculture (CSA) program into Wellesley this year.
They offer a box share option that consists of 21 weeks of fresh, sustainably grown vegetables, fruits, and herbs starting the second week in June and running through the end of October. The pick-up site is on Ingersoll Road in Wellesley and shares will be available every Thursday from 4-8PM. Supporting this program helps support The Food Project's work providing jobs for local teenagers and food for hunger relief organizations.