Wellesley businesses properties, some established and some new,  are undergoing various levels of renovation and renewal this summer. Among them: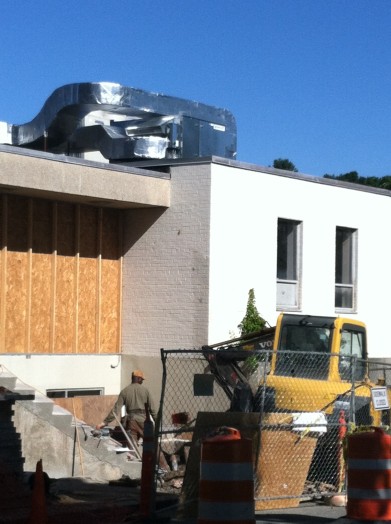 *Alex and Ani, the feel-good jewelry business moving into the old Paper Source space in Wellesley Square, has a major project underway.
*The Turnabout Shoppe, located at 30 Grove St., is closed for in-person shopping until Aug. 21 while renovating. The insides of the shop were pretty bare when we stopped by to take this picture. However, consignments and online orders are still being handled during the renovation.
*Salon Internationale at 85 Central St., is closed for remodeling until Aug. 17.
Of  course, home renovations and new residential construction never stops in Wellesley. Contractors have been up bright and early buzzing and hammering away to make existing homes bigger and new homes stand out. Here's a new house going up on the long vacant lot at Benvenue St., near Grove St.
And things have been getting torn up at Wellesley Middle School, left, and Hunnewell Elementary School, below. (Photos by  DCB/BB)