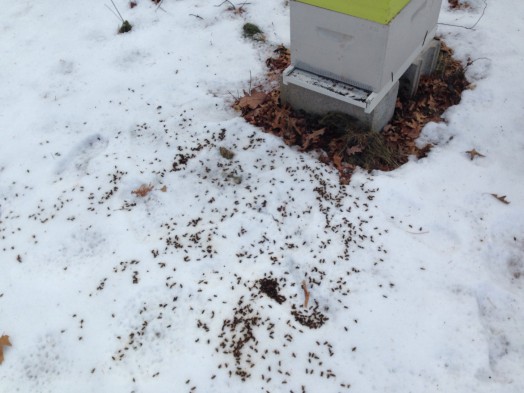 A strange sight we came across earlier this year: hundreds of bees dead in the snow at Wellesley College, including behind the Wellesley Centers for Women's Cheever House on Rte. 16 near the Sudbury aqueduct trail.
Local bee expert Ed Karle tells us that he's actually the one who brushed dead bees from the hives kept by the college into the snow. He keeps track of the live hives by placing a brick on top in a certain configuration. He didn't actually say that the bees had frozen to death, though it just looked that way to us when we saw them all spread in the snow.
Seeing all the bees dead wasn't nearly as gruesome, though, as seeing the squirrel that froze to death in our neighbor's bird feeder recently.