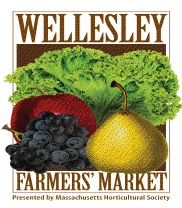 We heard whispers yesterday that the farmers' market, located in the Whole Foods parking lot May – October for the past two years, would not return for 2014. The Wellesley Farmers' Market celebrated its grand opening in May of 2012 thanks to a collaboration involving organizations such as Sustainable Wellesley, Whole Foods and Mass Hort, and featured local vendors of organic and other specialty crops.
Among the vendors was Patti Small of On The Edge Knife Sharpening, who says that while the market wasn't the busiest, she liked selling her products there and enjoyed working with the market manager. "Too bad," she wrote on Twitter.
A MassHort official confirmed the rumor of the market not being held this spring, saying that a combination of factors led to the decision and that more details would become available after the crazy busy-ness of the Boston Flower show, which runs through Sunday, March 16.
We placed inquiries to Whole Foods and Sustainable Wellesley about the farmers' market, but did not hear back.
Also of interest…
Genetically Modified Food advocates on the loose in Wellesley?