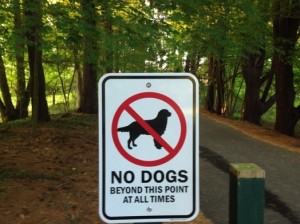 Dog owners/supporters have created a Change.org petition in an attempt to sway the Mass Horticultural Society to change its mind about the recent ban of dogs from its garden area. As of this writing, 34 people had signed up — 66 has been designated as the magic number needed to present the petition to Mass Hort.
Mass Hort says the ban is needed to protect its garden and gardeners from dogs whose owners allow them stroll and relieve themselves in the gardens. Dog owners against the ban argue that they are responsible with their pets and agree that the dogs should not be allowed to run within the gardens themselves. What they have going against them are the many cases of unleashed dogs over the years biting park visitors, knocking over runners and cyclists, and soiling the playing fields. Mass Hort points out that while a section of the park has been cut off to dogs, 152 acres remain where dogs may roam.
The petition concludes:
We the undersigned propose and support the following:
1. Continue to allow dogs on the paved areas between the formal garden areas. We support the dog restrictions in    the specialty garden areas e.g. Weezies garden, Italianate etc. 
2. Enforcement of current leash and waste removal policies
3. Replace No Dogs signs with waste disposal bag dispensers and donation boxes where people can donate to cover expenses