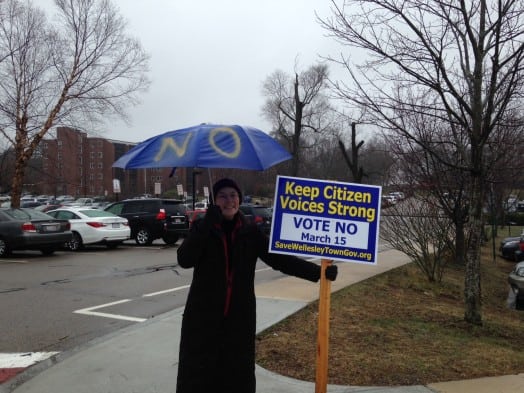 Wellesley residents on Tuesday voted down a proposal to change the town's government to a Board of Selectmen-Town Manager system. The unofficial results: 2,823 No votes (57%) to 2,121 Yes votes (43%). Final results will be released Wednesday once some hand counted votes are added to the total, according to the Town Clerk.
Many of those voting No said that the Town Manager plan, as proposed, would have taken too much control out of the hands of citizens, including volunteers who devote their time on boards and committees. The Library Trustees, Natural Resources Commission and Recreation Commission were among those opposed to the move.
Some said they weren't necessarily against having a Town Manager, just not as currently proposed.
Those voting Yes felt it was time for the town to change its form of government in light of Wellesley's growth.
A Town Government Study Committee began exploring possible changes to the town's government structure about 2 years ago, and after Town Meeting approved the Town Meeting plan, the Special Act signed by the Governor to move forward with that plan went to voters this week.
Below are the Town Manager and Town Meeting Member results for now.