OK Buddy (19*), Dog licenses in Wellesley were up for renewal as of the start of April (2), and more than 250 dogs registered last year have not had their licenses renewed — so it's possible that this year's ranking of dog names in Wellesley could be a bit off. But based on the numbers that we do have, counting 2,913 pooches, I can Bailey (27) contain myself in disclosing this year's top 15 most popular Wellesley dog names….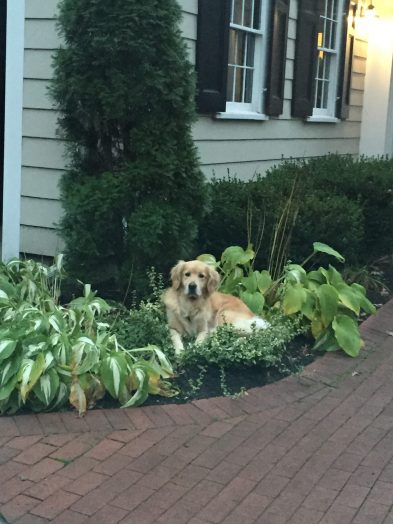 But first, an ode to some of the more uncommon dog names in town, those with only one specimen: Disco Dan, Dobby, Expat, Godiva, Keeper and Keiko the Wonder Dog.
Oh, and an ode to some of the more Swellesley names: Bentley, Hobbes, Mr. Bingley and Muffin.
Perhaps the most throwback name: Rover (no Fidos on the list).
Abbey starts the list off and Zuzu ends it.
Now, on to the Top 15 list:
1. Bella 37
2. Lucy/Lucie 37
3. Lily/Lilly/Lili 34
4. Charley/Charli/Charlie/Charly 34
5. Bailey 27
6. Cooper 27
7. Teddi/Teddie/Teddy/Tedy 27
8. Maggie 25
9. Sadie/Sadie Mae/Sadie Rosie 25
10. Riley/Reiley 24
11. Tucker 24
12. Coco/Cocoa 21
13. Lola 21
14. Molly/Mollie/Molly-Aussi 21
15. Daisy 20
This is the second straight year that Bella was Wellesley's most popular dog name.
Labs remain the most popular breed by far, accounting for more than 1 in 5 licensed dogs. Golden retrievers, golden doodles and cockapoos are among the other most popular breeds in Wellesley. You can cruise through the whole list below…
*Number of licensed dogs in Wellesley bearing this name
MORE: Bella, Labs rule in Wellesley among dogs in 2016; Brady kicks Roger's butt