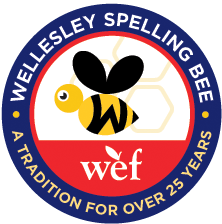 The Wellesley Education Foundation (WEF) is hosting the 28th Annual Spelling Bee on Thursday November 2, 7pm at the Sprague School gym. This is a traditional community spelling bee with a twist — the competitors work in teams of three.
Fifty-five teams will be competing for the Ruth Humphries Trophy. Come cheer on local Town representatives, businesses, school PTOs, sports teams and student teams from WMS and WHS.
Thursday, November 2nd
7pm
Sprague School Gym
Admission is free, and all are welcome.
Bee-lieve me, the Spelling Bee is seriously fun. I wouldn't miss this great annual event, and neither should you. Below are links to some of our posts from past Bees:
How many blondes does it take to win a Spelling Bee?
They came the heck out of nowhere (well, Weston) to win the big trophy and year-long bragging rights…