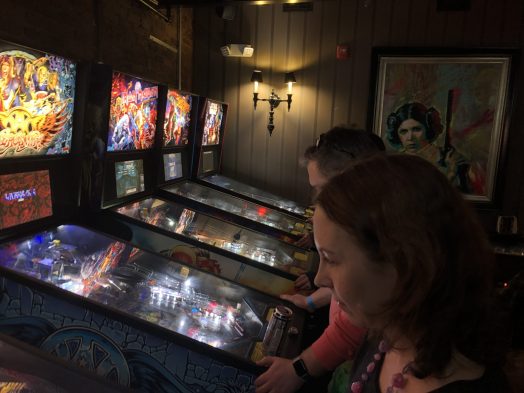 My lower back is sore, carpal tunnel syndrome I didn't know I had is flaring up, and I need to run my sweaty T-shirt through the heavy duty cycle. I'm not complaining though. That's all  the result of having a great time at the new Versus arcade/bar/restaurant in downtown Boston over the weekend playing everything from Hoop Fever to skee ball to dome-top stick hockey and a bunch of old school video games like Centipede, Galaga and Ms. Pac-Man. Plus lots of pinball, including Aerosmith, Ghostbusters and Iron Maiden.
Mrs. Swellesley, Swellesley juniors and myself climbed the stairs to Versus on Saturday afternoon not long after the Province Street venue's 4pm opening that day, and found a lively though not crammed bar full of game players and football game watchers already starting their nights. While Versus is a bar, kids are welcome to play the arcade games until 8pm, too, and we saw plenty of families mixed in with city night-lifers.
And why not? For $5, you get unlimited game play. That's got to be about the best deal in town. You can shoot for the 10,000 point hole in skee ball with reckless abandon, knowing you don't need to keep forking over money for tokens (Versus is a token-free zone).
There was plenty of turnover by game users the day we went, so while it was a bit tough to squeeze in at the dome-top stick hockey table (the world's greatest game without question), it was easy to get more than 1 turn at everything else. The kids tended toward some of the driving games, I hunkered down at the basketball game, and Mrs. Swellesley displayed her pinball wizardry.
The decor is fun, featuring nerdy throwback super heroes and paintings of celebs like Carrie Fisher. The music is loud, and exactly the sort of early hip hop and hair band rock you'd expect at a retro place like this. Eazy-E's "Boys-N-The-Hood" cranked while we ate dinner.
The menu is nothing glamorous, but you can down burgers, hot dogs, pizza and more. Everything's under $20, and beers range from $4-$7, with wine by the glass starting at $10. My cheesesteak was tasty (complete with Velveeta) and came on a Frisbee, with crinkle fries on the side. Others in our party had their meals served in old-timey lunch boxes. The staff was friendly and professional.
Truly, it all felt like a bit of paradise. Though actually, two of us wound up making our next stop the Paradise rock club near Boston University to catch a concert by Hop Along.
A full, fun day and night in the big city that was worth the trip.
The facts:
Versus arcade/bar/restaurant
42 Province St., Boston (near the Park Street T station)
Hours:
Sunday-Wednesday
3pm to 11pm
Kitchen until 10pm
Thursday
3pm to 12am
Kitchen until 11pm
Friday and Saturday
3pm to 1am
Kitchen until Midnight