The Wellesley Board of Selectmen kicked off its meeting Monday night with the announcement that Town Executive Director Blythe Robinson is resigning effective March 1. Robinson was selected for the job in the fall of 2016, having come to Wellesley from the town manager job in Upton.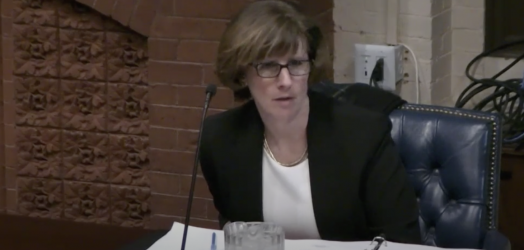 Her departure marks at least the 5th high-level town official to leave or announce plans to leave since the fall. Some are retiring, others are taking or seeking new jobs, in some cases closer to home. These sorts of jobs can take a toll, with seemingly endless meetings and demands, but can be rewarding in terms of making effective changes across a community.
Board of Selectmen Chair Jack Morgan read a brief statement to start Monday's meeting to list some of Robinson's achievements, including the restructuring of the Selectmen's office, drafting of updated policies and procedures for Board consideration, and working to implement Board decisions.
Robinson says she plans to explore a leadership position in a municipality with a more traditional organizational structure. Wellesley voters shot down the town manager approach back in 2016.
In addition to making the announcement about Robinson, the Board recognized Ellen Gibbs, a BoS member since 2010 and a town volunteer for more than 20 years. Monday's meeting was her last BoS meeting as a member.
The town election takes place on March 5, and a new member will be voted in then…