The Wellesley High School boys' varsity basketball team topped Brookline High 52-48 in a back-and-forth game before a supportive crowd adhering to new rules in the aftermath of Friday night's game during which there were reports of players on the opposing team being subjected to racial slurs and unruly behavior from some spectators.
Following our report on the Friday situation, based on memos sent only to the school community, a gaggle of local TV news stations descended on Wellesley. Some sent reporters to stand in front of the school and summarize the memos, and at least 1 reporter hit up drivers at pickup time.
Those attending or making appearances at the late Tuesday afternoon game included families, younger Wellesley High players, and school officials, including Supt. Dr. David Lussier.
Students were required to be accompanied by an adult to gain entry, and that caused a bit of entertaining negotiating at the ticket table by some students seeking someone—anyone—to vouch for them.
In the gym, the front row of seats was covered with plastic wrap and bore signs indicating that you needed to move back. The fans in attendance cheered on the 2 teams with spirit, and a couple of students who left a bit early graciously thanked the adults sitting between them and me for "being their parents" for the game.
On the floor, Brookline took a quick 6-0 lead, before Wellesley came back to take an edge by the end of the first quarter. A Brady Stevens 3-pointer sent the teams to halftime tied at 25.
The third quarter started as a turnover-fest as a result of tough defense and sloppy passes. Brookline scored the first 8 points of the period before Wellesley came storming back with 9 straight points to take the lead. Brookline bounced back for a 4-point margin after 3 quarters.
A sharp cut by Ishan Kundu was rewarded with a pinpoint pass from Ben Palli and a layup to put the Raiders up 39-38. Brookline fought back, and the teams wound up tied at 42 with just a few minutes left. A smooth 3-pointer by Kundu put Wellesley up again, but the Warriors kept within a bucket until the end. A final turnover led to a finishing lay-up to give Wellesley its tenth win of the season in the team's final regular season home game.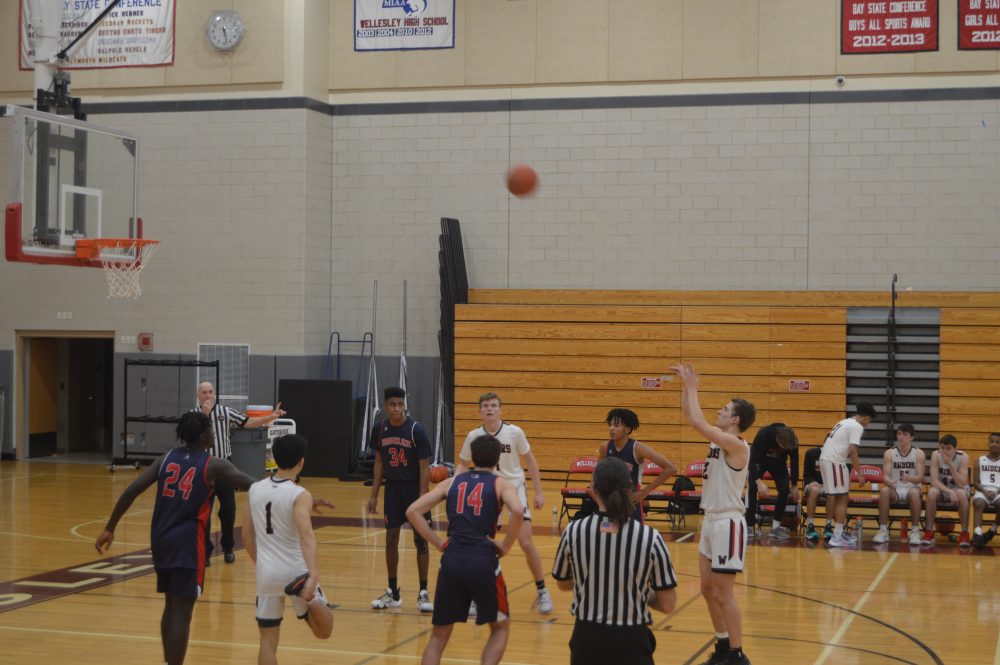 ---
Please send tips, photos, ideas to theswellesleyreport@gmail.com