(Updated: 7/6/23): We recently posted a photo of a curious stop sign placed near the middle of the sidewalk at the intersection of Grove and Spring Streets in Wellesley that had us—and others—wondering: What the heck?
There is a ramp for the crosswalk across Grove, but the sign post's placement would make it challenging to navigate the sidewalk in a wheelchair.
Admittedly, we posted first and hadn't gotten around to asking questions later, as planned. Wellesley's Public Information Officer Stephanie Hawkinson beat us to it though, with an explanation of the sign and related strategy…
I want to clear up confusion about the stop sign at the corner of Spring Street & Grove Street. As part of the Hunnewell School building project, the sidewalk contractor for the project is installing new ADA ramps in the area, including one at the crosswalk across Grove Street. The picture posted in The Swellesley Report showed only one angle of this area. It's important and helpful for the public to understand the new design of the entire intersection.
The north side of Spring Street, where the stop sign is located, is not intended to be accessible to pedestrians, individuals who are visually impaired, or individuals in wheelchairs or walkers. It is not a safe walkway – the slope of the street is too steep and there is no continuous sidewalk. The contractor paved a very small area just beyond the stop sign to provide a smooth transition to the street surface for snow plowing, rather than leaving a small patch of grass that would need to be maintained and mowed. (See Picture 1) All pedestrians on Spring Street should use the south side of the street where there is a continuous, accessible sidewalk. (See Picture 2)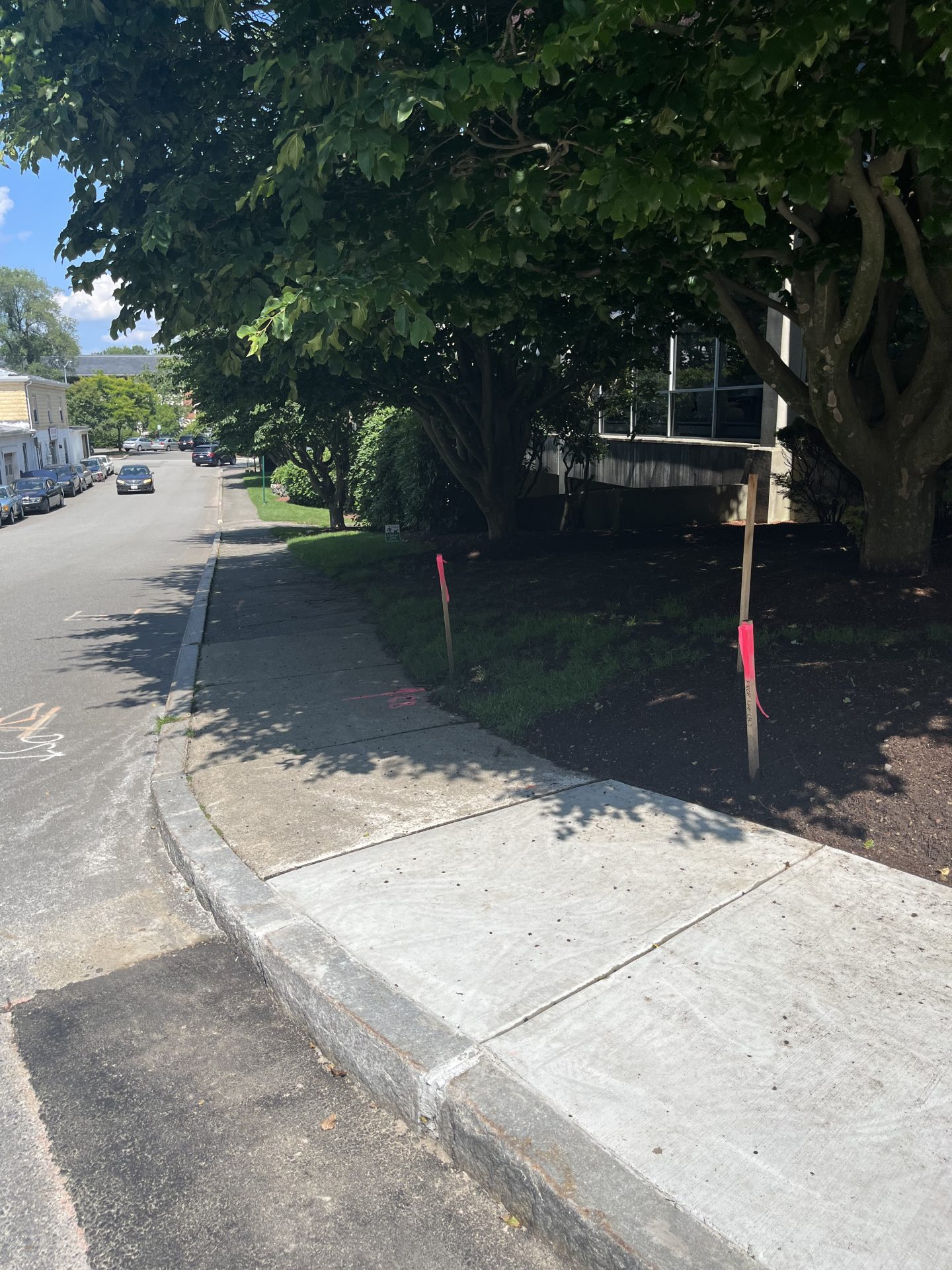 The stop sign itself complies with all legal requirements. It's intended to deter individuals crossing at Grove Street from attempting to walk down the north side of Spring Street, and it ensures that individuals who are visually impaired or in wheelchairs and walkers, are directed in the correct and safe direction. Stop sign locations are guided by very specific requirements. Due to limited Town right of way space in that area and the need to position the sign so it wouldn't be impacted by trucks turning onto Grove Street, this was the only possible approved location for the stop sign.