There's green and then there's green ($$$). Wellesley Bank, trumpeting prospects for growth upon its expansion into Boston and mobile banking, has unveiled a new logo.
It's a serious logo about serious money, featuring dark green letters encased in a double-gold box. "The new logo conveys strength and stability along with being timeless, which is what our clients seek from Wellesley Bank," says CEO Thomas Fontaine.
What it doesn't have any more is a tree, as it did in the outgoing logo shown below that fit with the bank's "Grow With Us" motto. A bold move in a town where businesses from dry cleaners to grocery stores vie to out-green each other daily. Let's hope Wellesley's sustainability team doesn't get wind of this.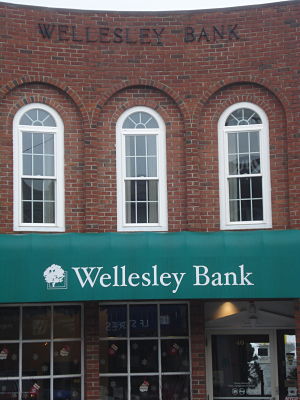 All is not lost, though, on the green banking front in our record-breaking Tree City USA community. First Commons Bank still has a tree in its logo.